Is Bow Wow's Suicide Tweet A Cry For Help Or A Cry For Attention?
"It was just a figure of speech."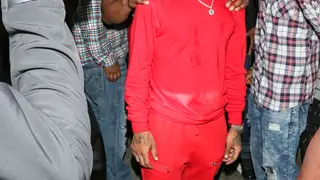 Suicide is NEVER anything to make light of, so it makes sense folks were pissed when Shad Moss AKA Bow Wow posted eerie tweets that hinted at a suicide attempt and then chalked it up to "a figure of speech." This comes after Bow Wow previously being vocal on being suicidal in the past. Yikes!
"Feel Like jumping off this balcony" read his first tweet. He followed up with, "I'm sorry but I truly don't want to be here no more!" After a barrage of supportive replies came in from concerned fans, the 31-year-old rapper tweeted "No I'm not gone do nothing. It was just a figure of speech. I woke up to bad news." A bad day?
From recent successful shows like Netflix's "13 Reasons Why" to Logic and Alessia Cara's hit "1-800-273-825"—suicide is a big theme in today's media. His word choice here seems unkind, and coming from someone who should know better since he has experience with such emotions, it just seems straight up rude.
The supportive tweets quickly switched up to Bow Wow being dragged for filthy on social media, once again, with everyone wondering if he really did have a bad day or if the sole purpose of the tweets were simply attention-seeking.
Again, I want to state for the record that having a bad day is no excuse to imply suicidal thoughts because it's 2018 and we know better. But how many times have you've been "going through it" and said things like, "I just want to die!" In no way do you actually mean you want to die, but you said it. So should we think twice next time a similar "figure of speech" comes out of our mouth? Absolutely. Should we add suicide-related phrases to the ever-growing list of things millennials are ultra-sensitive about? Abso-freaking-lutely. Because in if keeping kids on leashes and, have made it to the list, suicide has every right to up there.