Too Far? Tommie Lee Rips Into a Pregnant Joseline
She didn't hold back.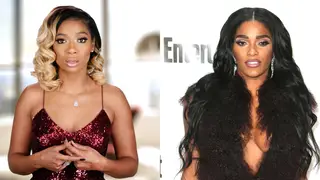 New addition to the Love & Hip-Hop: Atlanta cast Tommie Lee has had her fair share of run-ins during the series' last season, but her most talked about involves fan favorite Joseline Hernandez. Speaking on Raq Rants, the reality star dished on just why she and the self-proclaimed Puerto Rican princess don't see eye to eye.
"It was a coward move," she started, touching on Joseline's decision to take out a restraining order against her. "I feel that, if anything, we could have worked it out off camera, on camera, however she wanted to do it, but without the police, but I feel like that's her main game right now, is to get me away."
When the host asked if she thinks Joseline is trying to get her axed from the show, she said, "Yeah, anybody can see that. So, like, why would you want to [get a] restraining order [against] me? I'm not your homegirl. When am I going to cross paths with you outside of the show?"
As far as Joseline's claims go that Tommie tried to run her over, this is what she had to say: "I don't know what you're talking about. I've always been a bad driver... She's been saying so much about all of us. Can you believe anything she said?"
Take a look at the video, below:
See who's the newest addition to the Love & Hip-Hop franchise in the BET Breaks video above.