White Driver Kills Black Man, Brags About Hitting 'Some N****r' On Snapchat, And Faces No Charges
A GoFundMe page has been started for the family of Sherell "Rell" Lewis.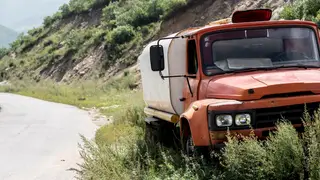 The family of a Black man who was hit and killed by a white man in a pickup truck are demanding justice after racist Snapchat messages appeared on the phone of the driver.
Last Tuesday, 31-year-old Sherell "Rell" Lewis, of Leesville, La., was removing dangerous debris on a local road. Although it was his birthday, Lewis was spending his time acting as a good Samaritan, reported The Daily Advertiser.
While Lewis was cleaning, 18-year-old Matthew Martin, of Hineston, La., drove his 2003 Chevy truck and hit Lewis, according to the Louisiana State Police.
Lewis was pronounced dead at Byrd Regional Hospital in Leesville. Martin was not injured and has not been charged.
Although it's unclear if the collision was an accident, police found racist Snapchat messages on an account belonging to a Matthew Martin after the incident. 
According to police, Martin allegedly posted a video of his dented truck with the text, "y'all i just hit a whole guy on the highway."
When someone asked Martin what he hit, he allegedly responded via Snapchat with the following messages:
While police have not confirmed that Martin made the posts, the account was in his name.
Vernon Parish Sheriff Sam Craft posted to Facebook about the messages.
"I am appalled at the content of the social media messages that were posted after the incident," Vernon Parish Sheriff Sam Craft said in a statement. "This post is unacceptable and has no place in our society."
But Craft added that the posts, no matter how "morally and socially unacceptable," does not break any laws.
As for now, routine toxicology tests are pending and Louisiana State Police continue to investigate the details of the crash. 

A GoFundMe page was created by Lewis' sister to help with the costs of the funeral.