Spike Lee Literally Canceled Chrisette Michele Over Donald Trump Inauguration Gig
Social media weighs in.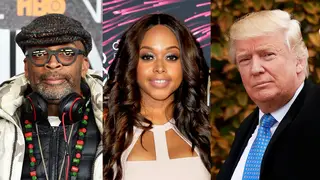 Chrisette Michele made headlines earlier this week when the rumors were confirmed that she accepted the invitation to perform at President-elect Donald Trump's inauguration.
Naturally, her decision was met with some severe backlash, especially from the Black community, not only because of the decision itself, but because she kept it from her fans for some time.
One person who was bothered by her acceptance of the invitation was celebrated director and filmmaker Spike Lee, who revealed that he was prepared to use the R&B singer's song "Black Girl Magic" in his new Netflix series, but pulled the plug on that after finding out that "sistuh girl" — yep, he went there — went against the grain.
Recap the moment Trump won the presidency in the BET Breaks video, above.
Spike Lee made it abundantly clear that the singer is completely canceled in his book:

Meanwhile, even Questlove is trying to buy her out of the performance:

The singer finally addressed the backlash, posting this lengthy statement on the 'Gram:

Even Black Twitter found Lee's dismissal of the star hilarious: