Alabama's No. 1 Seeded Men's Basketball Team Enters NCAA Tournament But Ex-Player's Murder Charge Hangs Over The Success
Forward Darius Miles was charged with aiding and abetting in connection with the fatal shooting.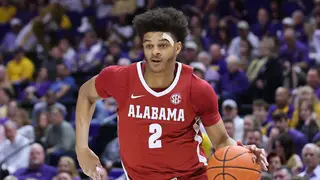 The University of Alabama men's basketball team made school history Sunday (March 12) as the first time the program earned a No. 1 seed in the annual NCAA tournament. They're preparing for their first match later this week, as a dark cloud hangs over the Crimson Tide players and coaches.
ESPN reports that former Alabama forward Darius Miles is sitting in Tuscaloosa County Jail. On Friday (March 10), a grand jury indicted Miles and his friend, Michael Lynn Davis, on capital murder charges for the Jan. 14 fatal shooting of Jamea Jonae Harris.
Davis allegedly shot Harris, 23, while she was sitting in her vehicle. Miles, who's charged with capital murder for "aiding and abetting," has acknowledged giving Davis the gun, according to his charge sheet and deposition.
Miles was removed from the men's basketball team Jan. 15. But prosecutors have not charged teammates Jaden Bradley and Brandon Miller in connection to the shooting, and they are still on the team.
Davis and Harris' boyfriend, Cedric Johnson, got into a brief verbal altercation outside the Twelve25 bar after Johnson saw Davis dancing next to Harris' Jeep, according to court testimony. Miles, who was with Bradley at the scene, removed Davis from the situation. Miles told investigators that he saw a gun being passed in from the front seat to the back seat of the Jeep when he removed Davis, which Johnson denied.
Miles texted Miller, a 6-foot-9-inch freshman forward, to bring him his gun, though it's unclear if Miller saw the message. Miller arrived at approximately 1:43 a.m. Johnson, who was driving Harris' vehicle, pulled behind the cars of Bradley and Miller with the headlights off.
Davis and Miles then went into the back seat of Miller's car and searched for Miles' gun. The police testified that Davis fired first into Harris' Jeep and Johnson returned fire. One of Davis' shots killed Harris, 23, in the passenger seat.
"She has a 5-year-old son that is still waiting for his mother to come home. I want justice for my grandson," Harris' mother, DeCarla Heard, has told reporters, according to The Associated Press, adding that her daughter "was a beautiful person who was trying to have a night out with friends when she was killed.
John Robbins, Davis' attorney, told ESPN that he's pursuing a "defense of justification," as it's unclear to the defense team whether Davis or Johnson fired first.
"We are not surprised with the indictment," Robbins stated. "We were expecting it all along. We're happy that the state moved quickly on this matter so we can get into court and get this case tried as quickly as we can before a jury. We are going to vigorously defend this case and defend my client's right to protect himself when someone points a gun at him and shoots him."
Miles' attorney, Mary Turner, said she's not surprised by the indictment because an accused individual is not allowed to present evidence to the grand jury.
"We are nonetheless disappointed that the Government presented this case to the Grand Jury as Capital Murder considering the evidence uncovered during our investigation and the obvious weaknesses in the Government's case brought to light during the preliminary hearing," Turner said in a statement.
Meanwhile, Alabama coach Nate Oats was asked at a news conference after the indictment about the team's weapons policy.
"Our players are required to follow the university policy on guns, which essentially bans them on campus," he responded, according to the AP.
He was also pressed on who was involved in the decision to allow Miller and Bradley to play.
"It's been a difficult situation, as you understand. I mean, we're dealing with a criminal matter," Oats said, adding "this was a decision made, based on all the facts we had, with, obviously, my boss, (Director of Athletics) Greg Byrne; his boss, (President) Dr. (Stuart) Bell; and the Board of Trustees. And everybody was comfortable, and based on the information we had, Brandon didn't break any school policy or team policy, so ... I was comfortable with the decision that was made."