Michigan State Informs Mel Tucker It Intends To Fire Him For Inappropriate Behavior With Rape Survivor
The university placed Tucker on administrative leave without pay after Brenda Tracy filed a sexual harassment complaint in December 2022.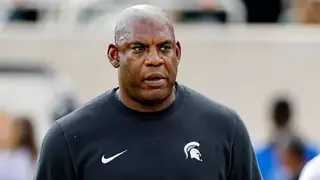 After being placed on administrative leave without pay for sexual harassment accusations, Michigan State University has announced that head football coach Mel Tucker will be terminated, CBS Sports reported.
On Monday (September 18), athletic director Alan Haller described Tucker's actions as "unprofessional and unethical" and said that he would not remain with the team regardless of the outcome of the hearing that's scheduled for October 5.
"I, with the support of administration and board, have provided Mel Tucker with written notice of intent to terminate his contract for cause," Haller said in a statement. "This notification process is required as part of his existing contract. The notice provides Tucker with seven calendar days to respond and present reasons to me and the interim president as to why he should not be terminated for cause."
"This action does not conclude the ongoing Office for Civil Rights case; that rigorous process will continue," the statement continued.
On September 10, Tucker was suspended pending the outcome of the Title IX investigation after Brenda Tracy, a prominent activist and rape survivor. alleged that she was subjected to unwanted sexual advances from the coach. The investigation into the alleged incident began after Tracy filed a complaint in December 2022. Tracy claimed that Tucker made sexually suggestive comments and masturbated while Tracy "sat frozen for several minutes" during a phone call in April 2022.
In an interview with USA Today, Tracy said that she visited the campus of MSU on at least three different occasions as an activist beginning in 2021 where she developed a working relationship with Tucker.
Tucker even invited Tracy to speak to the football team and staff several times about her experience.
"The idea that someone could know me and say they understand my trauma but then re-inflict that trauma on me is so disgusting to me, it's hard for me to even wrap my mind around it," Tracy said. "It's like he sought me out just to betray me."
Tucker has vehemently denied the accusations saying they are "completely false" and the alleged encounter was consensual.
Following his termination, Tucker will be owed $79 million of the $95 million guaranteed contract that he signed in 2021 which was one of the highest college coaching salaries of all time. Reportedly, the university is attempting to not pay him citing that he was fired for just cause.
In his brief tenure with the Spartans, Tucker led the team to an 11-2 record in his second year. The Spartans are 2-1 so far this season