Michigan State Football Coach Suspended After Accusation Of Sexual Harassment
Mel Tucker was accused of making sexual comments and lewd acts during a phone conversation with an assault survivor.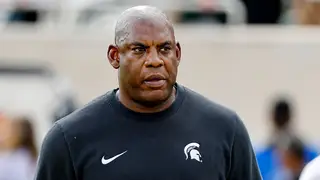 The head football coach of Michigan State University has been suspended without pay after it was discovered that he was accused of numerous sexual harassment charges.
According to CBS Sports, the university has placed Mel Tucker on leave without pay until the outcome of the Title IX investigation is determined after Brenda Tracy, a prominent activist and rape survivor alleged that she was subjected to unwanted sexual advances.
At a press conference held on Sunday (September 10),  MSU Interim President Teresa Woodruff said the school takes allegations of sexual misconduct seriously.
"This step, suspending Mel Tucker without pay, is … necessary and appropriate for today's circumstances," Woodruff said."These actions are not taken lightly."
MSU athletic director Alan Haller announced that Harlon Barnett will be the acting head coach and Mark Dantonio -- one of the most successful head coaches in program history, will make his return as an associate head coach,
Haller also noted that he was made aware of the complaint against Tucker in December, when it was filed by Tracy in December 2022, and the university hired an outside Title IX attorney to investigate the complaint who completed the investigation in July. that a formal hearing has been scheduled for October.
"Upon receiving the reports from the claimant regarding Mel Tucker, MSU's office of civil rights immediately commenced a review and subsequent investigation per university protocol using an outside, third-party investigator," Haller continued. "The external investigator concluded their review and submitted their investigative report on July 25, with a recommendation of a formal hearing, which will occur the week of October 5th
In an interview with USA Today, Tracy stated that she visited the campus of MSU on at least three different occasions as an activist beginning in 2021 where she developed a working relationship with Tucker over an eight-month period. Tucker even invited Tracy to campus three times where she spoke to the football team and staff and was recognized as an honorary captain at the team's spring football game.
"The idea that someone could know me and say they understand my trauma but then re-inflict that trauma on me is so disgusting to me, it's hard for me to even wrap my mind around it," Tracy said. "It's like he sought me out just to betray me."
According to Tucker's account, during a phone call on April 28, 2022, she "sat frozen for several minutes" as Tucker made sexually suggestive comments about her and masturbated.
Although he acknowledged masturbating during  the call, Tucker claims that the act was consensual "phone sex."
"Ms. Tracy's distortion of our mutually consensual and intimate relationship into allegations of sexual exploitation has really affected me," Tucker wrote in a March 22 letter to the investigator. "I am not proud of my judgment and I am having difficulty forgiving myself for getting into this situation, but I did not engage in misconduct by any definition."
Tucker's once bright future at MSU is now in question after his suspension for sexual harassment. In 2021, he signed a 10-year, $95 million fully guaranteed contract, one of the highest college coaching salaries of all time, and led the Spartans to an 11-2 record in his second year. The Spartans are 2-0 so far this season.
While his contract is guaranteed, there is a clause in the contract that would allow MSU to terminate him for cause "if the coach is engaged in any conduct which constitutes moral turpitude" or "MSU deems said conduct to have embarrassed the university."