Choosing Social Media Over The Gym Again? These Celebrity IG Posts Will Inspire You To Get Moving
These five stars aren't afraid to put in the work!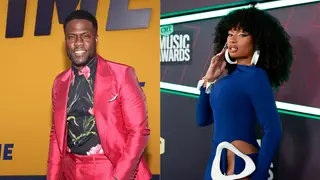 The hardest part of working out is staying motivated. While staying in bed and scrolling through social media may feel easier, working out can have immense health benefits. 
It lowers your risks of certain diseases, strengthens your bones and muscles, and can help to protect brain health. However, since many celebrities aren't shy about posting their workouts, you can use social media to help motivate you to engage in 150 minutes a week of moderate physical activity, as recommended by the Centers for Disease Control and Prevention for weight maintenance. 
Seeing celebs work out in incredible facilities, with trainers, or even outside could be an excellent reminder to get out of bed. Here are a few celebs that remind us working out is just part of the journey. 
Megan Thee Stallion

Our hot girl leader is telling us that part of being on your "hot girl game" is prioritizing your health. The rapper has shared many videos of her workout journey as well as checking out her posterior to her socials. A recent social media post showed Megan as she tackled leg day—a hottie staple. "Should I drop the hottie boot camp?" Megan asked her 30.9M followers on Instagram. The answer? Yes! Yes, Megan! You absolutely should drop the hottie boot camp.

Dwayne "The Rock" Johnson

Dwayne  "The Rock" Johnson has always been giving body; his workout routine shows why. Imagine starting your day with four giant weights that consist of four leg exercises in a row and doing four sets. This is precisely how Johnsondescribes one of his workouts. Painful much? Yes, but the ex-wrestler reminds us via caption, "We gotta consistently push and challenge ourselves daily, or else life isn't no fun."

B. Simone

B. Simone has been open about her faith journey. Since then, she has consciously tried to live a healthy lifestyle. The comedian has been sharing small glimpses of her gym sessions and weight loss journey. An IG post from last November reads, "The change you see is physical, but it all started internally with a mindset shift." This a great reminder to also set internal intentions. 

Kevin Hart

"If you stay ready, you never have to be ready," said Kevin Hart while sharing an early morning gym session. Kevin's gym sessions are always filled with hard work and joy, as he can be seen dancing during an intense workout. Friends have also joined the comedian on his health journey. Sharing, "We whooped the gyms ass this morning," while showing off him and a few friends in the background lifting weights. We know that's right! Are you tired of getting beat up by the gym? Tag team it with some friends instead! 

Venus Williams

Venus may be a beast on the court, but this Queen also puts in the work at the gym. The tennis player is as serious about her health routine as on the court. Water and vitamins are a significant part of her morning routine before preparing to train. Venus told her followers, "I like to start my mornings intensely hydrated. This helps me have better energy throughout the day and helps for better performance and training." Venus does not hold back  writing in another post, "You know what's always a constant? The gym. Stay moving my friends."