Tammy Rivera Confirms She And Husband Waka Flocka Have Split After 8 Years of Marriage.
The newly single rapper was looking some "chocolate" love on stage during a recent concert.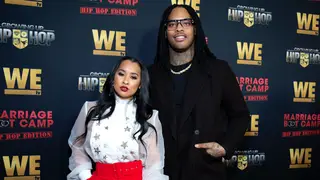 Tammy Rivera is confirming what many already thought: her and Waka Flocka Flame are going their separate ways, at least romantically.
Via Instagram Live, the Love & Hip Hop Atlanta alum addressed the rumors that she and the Cali rapper have split.
"Y'all not gon' Waka me to death with those damn questions, talking 'bout Waka and all that stuff," said Tammy. "I said the man fine, him and Charlie good, we good, we are not together and that's cool. We're good. We're in good spaces."
Rivera added that the two are still co-parenting their daughter, Charlie, despite them not being together and filming their reality show.
The IG Live comes as Waka Flocka addressed a video of him saying "I need some chocolate on stage" when referring to a group of dancing women during a recent performance.
It's unclear from the footage when or where the show in question took place. Under footage that The Shaderoom posted of the set, Waka commented over the intended inclusivity of his remark.
"Imagine tryna be a good person and be inclusive to all?…,. Imagine?" he wrote, which was liked by more than 45,000 IG accounts.
The couple split after 8 years of marriage.