Waka Flocka's Wife Tammy Rivera Says CVS Clerk Racially Profiled Her
"I'm disgusted in the lack of customer service, the disrespect, and the racist profiling I experienced."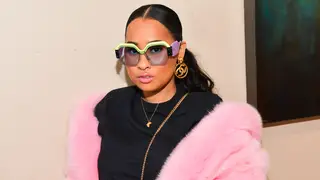 Waka Flocka's wife, Tammy Rivera, is not happy after she claims that a CVS employee racially profiled her. The incident took place on Sunday (Oct. 24) at a DeKalb County, GA, CVS store that she frequents.
Rivera headed over to her social media and shared a few social media posts to recall what happened to her fans. She claims that one of the employees was watching her as she walked down every aisle and then allegedly yelled at her for opening up a product she planned to purchase.
As the incident escalated, Rivera says that the clerk attempted to kick her out of the store and the police were eventually called.
"I'm disgusted by the lack of customer service, the disrespect, and the racist profiling I experienced," she captioned her Instagram.
To avoid trespassing charges, Rivera left but says she called CVS on Monday morning (Oct. 25) to file a complaint, where she soon received a call back from the general manager with an apology.
According to CVS, the company has a "firm non-discrimination policy" and makes sure that all of their customers are "treated with respect and are offered courteous customer service," TMZ reports.
Rivera shares with the outlet that while she doesn't want the CVS employee fired, she thinks it would be more beneficial for her to get proper education and training.