2023 NAACP Image Awards: Will Smith Wins First Major Award Since Oscars Fallout
The veteran actor celebrated the moment via Instagram.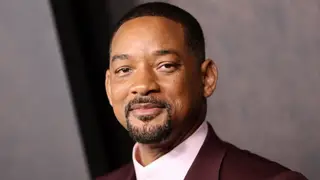 Over the weekend,  Will Smith took home "Outstanding Actor in a Motion Picture" at the 2023 NAACP Image Awards for his performance in the Antoine Fuqua-directed historical drama Emancipation. The win comes just one month shy of the first anniversary of Smith's infamous 94th Academy Awards fallout, which resulted after the veteran actor slapped Chris Rock onstage before yelling expletives at him after taking his seat back in the audience.
Smith topped the list beating out a slew of talent stars, including British actor Daniel Kaluuya for his performance in Nope, Sterling K. Brown for his role in Honk for Jesus Save Your Soul, Jonathan Majors for his part in Devotion, and A Jazzman's Blues' Joshua Boone. This also marks the actor's third NAACP Image Awards win.
The 54-year-old did not attend the ceremony hosted by actress and producer Queen Latifah. However, he took to his Instagram page, where he reacted to the winning moment, writing,  "WOW!! NAACP!! I am absolutely humbled by this!! I want to share this with my entire #Emancipation family - @antoinefuqua, @charmainebingwa, Ben, Bob, Jon the whole team at @westbrook and @appletvplus… I am so proud of the work we put into this film."
He continued, "I would like to thank the NAACP for honoring our film! @derricknaacp - you and your entire organization - and the work you do all year round - is truly important, so to be recognized by y'all - it means a lot." Smith concluded his post by praising this year's host, asking, "Can we give my girl @queenlatifah her flowers? She is KILLIN' it as host tonight!"
Emancipation follows an enslaved man Peterm portrayed by Smith, who flees a plantation in Louisiana after he was whipped within an inch of his life. The movie is loosely based on the real-life story of "Whipped Peter."
This is Smith's first major accolade since he slapped Rock in March 2022 following a controversial joke about his wife, Jada Pinkett-Smith's appearance.  As a result of the altercation, the star, who took home Best Male Actor for his performance in King Richard that same evening, was banned from all Academy-sponsored events for the next decade.
Smith is currently filming Bad Boys 4 with longtime co-star Martin Lawrence. The duo announced earlier this month that a fourth installment of the action film was officially in production.