Lay Bankz Is Dancing To The Top With Her Own Soundtrack
The Philly native, known for tracks like 'Na Na Na' and 'Ick,' talks about her rise through TikTok.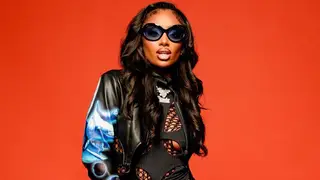 TikTok has become one of the most essential barometers in determining a song's reach for any artist worth their salt. From an actual Billboard chart recently enacted based on creations, video views and user engagement to many majors, using the social media platform is a requirement. It makes sense, as TikTok's most popular style of video is dance. There isn't anyone who understands how dance can catalyze more popularity than Philly native Lay Bankz.
The 19-year-old singer/songwriter and dancer has provided high-intensity dance music inspired by various East Coast dance scenes like her hometown alongside New Jersey and Baltimore since she was 15. In a year where fellow Philly emcee Lil Uzi Vert's "Just Wanna Rock" became one of the biggest viral successes this year, Bankz says the current movement makes sense.
"It gets real deep because the party music and the genre of music that's popping off in Philly right now is one of the sounds that has been alive on the East Coast for years before my lifetime," explained Bankz. "It just like this was destined and I feel like everybody from the East Coast already knew this was going to happen. It was a matter of time and Philly, they could say whatever they want but we running it right now."
This year alone, there isn't a better example than Bankz's infectious "Na Na Na." The track, taking samples from Louchie Lou and Michie One's "Rich Girl," hit #1 on Spotify's U.S. Viral 50 chart, over 23 million streams, and has seen 200 thousand plus creations on TikTok. According to Bankz, it's made naysayers recognize that she's coming, and ignoring her isn't an option.
"Whether y'all like me, whether y'all don't like me, whether y'all understand me or not my time is definitely coming," Bankz said. "It might not be now, it might be next week but it's coming, so just look out for me."
Before the success of "Na Na Na" this year, Bankz had been building a serious buzz from fun dance tracks like "Left Cheek (Doo Doo Blick)," "IDFWY" and "No More Crying" featuring Maiya Tha Don. That doesn't even count being featured on the remix of Ciara's "Da Girls." Bankz said that the moment was a dream come true, considering how much of a Ciara fan she was.
"My brother plugged me with Ciara because he knew she was making a party record," Bankz explained. "Once my producer Jumbo made the beat, Ciara was looking for somebody to be on the song and they told her my name. She started looking at my page and watching me. She gave me a shot, they sent me the open track and I went in the studio that same night and cut it in 15 minutes."
Dancing has always been key to Bankz's musical reach. Before her breakthrough on TikTok, there was a separation between dancing on the platform and making music. Things began to change for her once she began to intertwine the two. She challenged herself to make people understand that she was an artist, not an influencer.
"The assumption is that I started on TikTok and I was an influencer first and I absolutely was not," said Bankz. "That's false. When I hit around 400,000 followers I was like you have a platform and you need to make sure that people understand that you were blessed with a gift and this is what you want to do. After that, I started dancing to my songs, making musical content, trying to draw attention to any song that I made. It kind of just worked and I'm still doing it to this day."
That is why Bankz's recently released EP, Now You See Me, is crucial to her goal of complete artistic respect. The multi-hyphenate individual felt as though nobody ever saw her as the artist, woman, and creative that she was. Bankz hopes people understand and comprehend who she is and becoming.
"Musically, I'm out of the park and I'm very talented and I have so many different kinds of songs on me," Bankz said. "I have over 5,000 records that are every kind of genre you could ever think of. Pop Country, R&B, hip hop, alternative or anything. It's just going to be gas back to back with trying to make people understand that I am not one dimensional and there's so much more to layers to Banks because I can't wait for people to hear what I'm capable of."
Now You See Me shows Bankz showing promise on that notion, whether it's more club through tracks like "Ick" or more R&B swag of "Flowers." The later track featuring lyrics "Give my flowers / please do not wait till I'm gone," was inspired by last year's death of Philly rapper PnB Rock alongside personal relationships.
"People showed him[PnB Rock] so much love and attention just all went to him with how he charted immediately after he died," said Bankz. "It was kind of like, y'all do that when he was here. I get it, but at the same time, it really resonated with me and even the people that I have in my personal life. One of my best friends passed away, one of my childhood best friends.
I feel like I didn't even appreciate her enough. I feel like I didn't do enough."
Though Bankz has an overall sense of feeling appreciated by her audience, she knows much more work must be done. It doesn't matter if someone sees her as a TikTok trend or legitimate artist; she's climbing the charts and dancing to the top."My time is coming for sure and I'm not waiting for nobody to give me a handout."