People Are Praying for WWE Legend Ric Flair's Recovery After News of His Medically-Induced Coma and Surgery
"Don't you dare do it, 2017. Don't even think about it."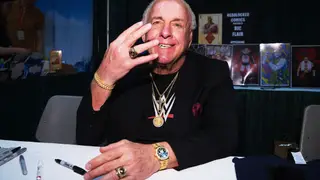 By Monday afternoon, TMZ Sports had reported that the two-time WWE Hall of Famer had been placed under a medically induced coma and was preparing for surgery over a reported heart-related issue.
The news sent shockwaves to the pro-wrestling community and beyond, as people took to Twitter to pray for the 68-year-old's condition to improve and his speedy recovery. Woooo!
Upon learning about Flair being hospitalized, people sent the following warnings to 2017 in true 'Nature Boy' fashion

Not on their watch, 2017. Ain't happening.

A host of former and current WWE Superstars all sent Flair their love

And fans kept the good vibes going, letting the Grim Reaper know that he can't pin Flair any time soon

Flair has too much sauce and swag for the Grim Reaper.

Prayers will continue, as fans hope for a pleasant ending like this

Get well soon, Ric Flair! Woooo!