Rick Ross Has Surprising Reaction To Fan Who Parachuted Into His Car Show
At least he appreciated the effort.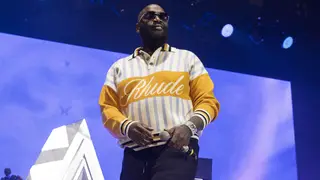 Rick Ross' car show was reportedly a big success over the weekend, and apparently, he's not unhappy about a particular fan who skated admission into the annual event.
On Saturday (June 3), the Miami rapper and Maybach Music Group founder held his car show at his "Promise Land" estate in Fayetteville, Georgia, and was attended by many more people than last year's edition.
While thousands of attendees, including celebrities like Meek Mill, Gucci Mane, Tyler, the Creator, 2 Chainz, and Gunplay, made appearances, one fan decided to skip the line and parachute into the event. Rather than being angry over what happened, Rozay complimented the fan's dedication in getting a glimpse of his lavish rides.
"Only thing I don't like about it is he didn't tell me what time to expect him jumping out of the goddamn plane and landing in my backyard," he said in a video posted to his Instagram Story. "By the time I ran back there, they was dragging his ass … and he had a huge smile on his face and said, 'please, please, please don't press charges.'"
That said, Ross joked that if someone were to jump the gate, he "will do you dirty," but if you parachute, just provide him some notice.
Rick Ross may have been okay with that element of his car show, however, he received a lot of pushback heading into the event, including law enforcement's concern for the "potential impact" it could have on the greater community.
Other people claimed that some of the amenities at the show, including food purchases, were gauging attendees.