Rick Ross Plans To Run For Mayor Of Fayetteville, Georgia
The new development comes after the Miami rapper was denied a permit to host a car show.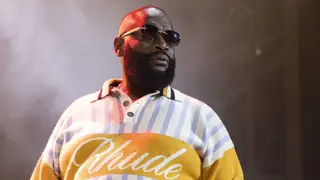 Rick Ross has an appetite for political power.
The Miami rapper and Maybach Music Group founder announced his plan to run for mayor of Fayetteville, Georgia on Tuesday (May 16) after he was denied a permit to host his annual car show.
WSB-TV reports that the permit was denied due to Rozay's neighbors notifying the Fayetteville Board of Commissions of traffic complaints allegedly caused by the inaugural Car and Bike Show last year.
"I love Fayetteville so much. Next year I'm running for mayor," he said via his Instagram Story. "That's right. The boss Rick Ross running for mayor of Fayetteville. I wanna know how many votes did it actually take to vote in the mayor of Fayetteville. I need to know that 'cause we gon' become that. We gon' make that happen, and we gonna have a good time. We gon' give some people opportunities, we gon' give some people raises and, of course, we gon' have to clean some people out."
Ross' annual Car and Bike Show is held on his Promiseland property, which is located in the Georgia city and it attracts attendees from all over the country.