Meek Mill Parts Ways With Roc Nation Management
The rapper has been a part of their roster since 2012.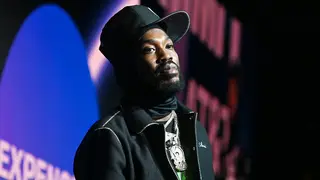 Meek Mill has departed from Roc Nation Management according to Billboard.
The rapper has been removed from the company's website and social media pages. This may come as a shock to many as the Philadelphia native has a joint venture deal with the company for his imprint Dreamchasers and teamed up with Jay-Z for the REFORM Alliance to combat unjust sentencing laws in the United States.
The Alliance also passed a criminal justice reform law in Florida that creates a new remote reporting system allowing more flexibility for those on probation and their officers and a credit system reducing probation terms for those pursuing a GED, degree, or vocational certification and/or maintain full-time employment. 
The new law is slated to move more than 150,000 people out of the criminal justice system. 
They also collaborated together with fellow rappers Fat Joe, Killer Mike, and singer Robin Thicke to sign a letter known as "Rap Music on Trial" or Senate Bill S7527, which is a piece of legislation that would restrict prosecutors from using rap lyrics as evidence during criminal cases in the state of New York and some of the music industry's biggest names are going hard to bat for it to be passed.
It was written by Jay-Z's attorney, Alex Spiro, and University of Richmond professor, Erik Nielson which describes how detrimental the issue currently is.
"This tactic effectively denies rap music the status of art and, in the process, gives prosecutors a dangerous advantage in the courtroom: by presenting rap lyrics as rhymed confessions of illegal behavior, they are often able to obtain convictions even when other evidence is lacking," the letter wrote.
The 'Dreams and Nightmares' rapper has shared his frustrations over his label Atlantic Records in the past, tweeting how the label hasn't invested in him and making money off of his artistry.