10 Cities Considering Reparations To Atone For Slavery, Structural Racism
Local governments are at different stages of a process that has stalled at the federal level and in most states.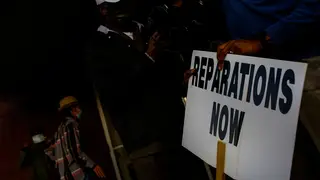 In 1989, the late Michigan Democratic Rep. John Conyers Jr. became the first federal lawmaker to introduce a reparations bill in the House, which called for a commission to study slavery and restitution. Since that time, the concept of compensating the descendents of enslaved Black people has grown in scope and in controversy among lawmakers.
Meanwhile, among American cities, reparations is gaining traction. In 2019, Evanston, Ill., a Chicago suburb, became the first city to pass a reparations resolution for qualified Black residents. Officials voted to release funds for a housing grants program for mortgage assistance, renovations, or a down payment on a home. The plan did not include direct cash payments.
Here are 10 other cities in various stages on their journey toward reparations.
Asheville, N.C.

About 250 miles west of Raleigh, the Asheville Community Reparations Commission plans to hold a meeting on Oct. 16 to discuss recommendations for reparations to qualified Black residents. In July 2020, Asheville City Council passed a resolution supporting reparations, but what reparations will look like is still being determined. The ongoing discussions center on education, health care, housing, economic development and justice, based on findings from a joint county and city "harm audit."

Boston

Detroit

Detroit is in the early stages of figuring out its approach to reparations. The city's 13-member reparations task force held its first meeting in April to make recommendations for housing and economic development programs to address historical discrimination against Black residents. The commissioners must submit a written report to the City Council within 18 months of its initial meeting, at which residents shared their views on reparations. More than 80 percent of voters supported a ballot initiative to create the reparations commission.

Kansas City, Mo.

Kansas City's reparations committee met in May for the first time. Members must recommend ways to compensate Black residents for generations of discrimination in five impact areas: housing, economic development, health, education and criminal justice. The committee is considering several forms of reparations, including direct payments, tax relief and scholarships.

Northampton, Mass.

Northampton City Council passed a resolution in February to create a reparations commission and to officially apologize for the racial discrimination the city inflicted on Black residents. The 11-member commission, which included eight Black commissioners, met for the first time in August to begin its investigation and to consider reparative justice initiatives. Commissioners must submit a preliminary report of its recommendations by May 24, 2024 and a final report by October 2024.

Providence, R.I.

St. Louis

St. Louis Mayor Tishaura Jones signed an executive order in December 2022 to create a reparations commission. Commissioners held their fourth reparations meeting in July to hear from the community how slavery, segregation and other racist policies harmed Black St. Louisans. Chairperson Kayla Reed says the commission is narrowing its focus, including housing, economic and health disparities.

"From housing loss to neighborhood displacements to just economic instability due to job loss and lack of opportunities, we'll give recommendations about how resources should be used to restore some of those harms," Reed told KSDK.

St. Paul, Minn.

St. Paul City Council issued a resolution in January 2021 apologizing for systemic racial discrimination, including redlining and racial covenants that kept certain neighborhoods White. Two years later, council members voted unanimously to establish an 11-member reparations commission to advise the mayor and city council on ways to remedy historic racial discrimination. Forming the commission hasn't been easy. In August, the city apologized after a group of Black residents complained that the city reportedly hired a commission manager who wasn't a descendant of American slavery.

At this point, it's unclear what shape reparations would take in St. Paul. However, a proposal to create a $2 million reparations fund for the Rondo neighborhood was on the table. The city bulldozed about 700 homes in the once-thriving Black community to construct Interstate 94 in the late 1950s and early 1960s. The fund would provide up to $100,000 in forgivable loans for individuals to rebuild.

St. Petersburg, Fla.

St. Petersburg City Council voted in December 2021 to approve a reparations program based on recommendations from a study the council commissioned and the University of South Florida conducted. The plan calls for investment in affordable housing, educational programs and economic development - but not direct payments to individuals or families. The report also urged lawmakers to acknowledge structural racism's historical and current impact on Black residents, and it advised them to create an equity department in the mayor's office and a race equity board.

San Francisco

In January, San Francisco's African American Reparations Advisory Committee made national headlines with news that it would recommend paying qualified Black residents $5 million as compensation for generations of systemic racial discrimination. Committee members presented a final report to the city's Board of Supervisors in September. It outlined more than 100 recommendations, including various programs to close the racial wealth gap and the controversial lump-sum payment.

What will happen next is unclear. While the supervisors support reparations, Mayor London Breed appears less enthusiastic. In a statement, the city's first Black woman mayor said she will "continue to lift up" marginalized communities but believes reparations is a federal function, according to The Associated Press.