Kidnapped Boys From Nigeria School Returned To Their Families
The youths had been taken by armed bandits from their school in a rural area of the country. Boko Haram had claimed to be responsible.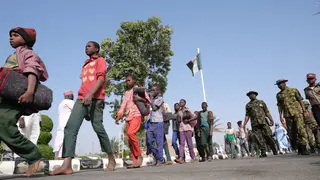 A week after being abducted by gunmen from their school in northwest Nigeria, more than 300 boys have been reunited with their families, the BBC reported Friday (Dec. 18).
Aminu Bello Masari, governor of Nigeria's Katsina state, said 344 boys arrived at its capital city, also called Katsina, but others were still missing. Many were still wearing their school uniforms and were escorted by armed police.
"I think we have recovered most of the boys- it's not all of them," Masari told reporters.
"You suffered physically, mentally and psychologically, but let me assure you that we suffered more and your parents suffered more," he said to the boys as they returned.
Boko Haram, the Islamic fundamentalist terror group claimed responsibility for the kidnapping of the boys from the Government Science Secondary School in Katsina. "What happened in Katsina was done to promote Islam and discourage un-Islamic practices," Boko Haram leader Abubakar Shekau said at the time.
RELATED: Boko Haram Leader Claims Responsibility For Mass Kidnapping At Nigerian Boys School
Reports indicate more than 100 armed men riding motorcycles invaded the school as students tried to flee and hide in the rural area. However, there was some skepticism that they were responsible because the area reportedly  lies outside of the normal areas where they have committed other terrorist acts.
"The local bandits we know about all along were responsible, Abdul Labaran, a spokesman for Masari told the BBC. These are people we know very well, I met some of their leaders. That is why an umbrella body of cattle breeders' association was used in contacting them. So the negotiation was made through this umbrella body of cattle breeders."
The Nigerian government says that no ransom was paid for the boys but negotiations with their kidnappers ensured their release. The kidnappers listed several grievances in three rounds of negotiating that the officials agreed to address.

"Among their complaints was how people kill their cattle and how various vigilante units disturb them," said Bello Matawalle, governor of Zamfara state, where the boys were released. Conflicts between farmers and herders are fairly common in rural Nigeria.
"I couldn't believe what I heard until neighbours came to inform me that it's true," one of their mothers told Reuters.