Seven White Men Arrested In Oregon For Harassing Black Family During Beach Outing
The group of drunken individuals are said to have shouted racial slurs and flashed Nazi salutes.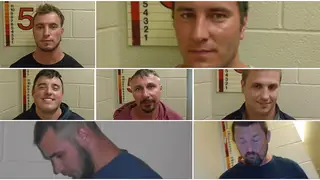 The apparent backlash continues against Black America in retaliation for the wave of protests against systemic racism and police misconduct. 
A group of seven white men were arrested in Oregon on Saturday, July 4 for harassing a Black family at a beach with taunts, racial slurs and Nazi salutes, The Hill is reporting. As if that was not enough, the members of the group also allegedly tried to surround police as officers reported to the scene in Lincoln City, Ore.
Police said that they were initially called to the scene to respond to complaints that the group was setting off illegal fireworks and causing a disturbance, according to the news organization. When police arrived, they found members of the group "highly intoxicated." That's when the men and the larger group they were with attempted to surround law enforcement.
Officers at the scene rearranged themselves so as to form "a line between the group of white persons and the Black family, allowing the Black family to safely leave the beach and return to their (hotel) room," the police department told The Hill in a statement.
The ordeal did not end there. The men continued to taunt the police and shot off illegal fireworks right in front of officers. 
"After several more officers arrived on scene, they moved in on the confrontational and highly intoxicated group and began placing them under arrest for a variety of  criminal charges," the police statement continued. 
Even after seven of the men were arrested, the alleged defiance continued, according to the news organization. One of them had to be transported to the Lincoln CountyJail in Newport, Ore., to be fingerprinted because he refused to give authorities his identity.
The seven men, ages 22 to 45, were charged with riot, interfering with police, disorderly conduct, harassment, possession of illegal fireworks and offensive littering, according to authorities. Aside from the one who refused to identify himself, they have all since been released because of coronavirus restrictions.