[Watch] Lisa Raye Confesses She Got Stacey Dash Fired from Single Ladies
She thinks she had a good reason, though.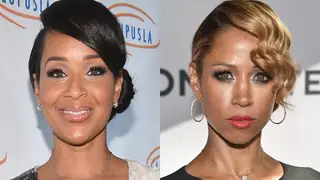 The circumstances that caused Stacey Dash to abruptly leave Single Ladies is one of the great unsolved mysteries of our time...well, maybe not, but we have been waiting for someone to spill the tea on what happened. This weekend, on a new episode of Centric's Being, LisaRaye McCoy did just that.
In a promo clip for the show, LisaRaye finally admits that she's the one who got Dash fired — something she's outwardly denied in the past. "In Hollywood, I've learned to be a boss," she said in the teaser. "I had to say to Stacey Dash, 'If you don't get your mother******* finger out of my face…'" she said, then continued, "So for our second season of Single Ladies, there was a replacement."
In previous interviews, LisaRaye blamed the show's director and VH1 for letting Dash go, though she did hint at tensions on the set. Now, however, she's copping to being the one behind giving Dash the heave-ho. Of course, we all know what Stacey went on to do from there.