Lay Lay Is Really THAT Girl, Here's Why!
The multi-talented 15-year-old talks about new music, her Nickelodeon show, and collabing with the hottest women MCs in the game.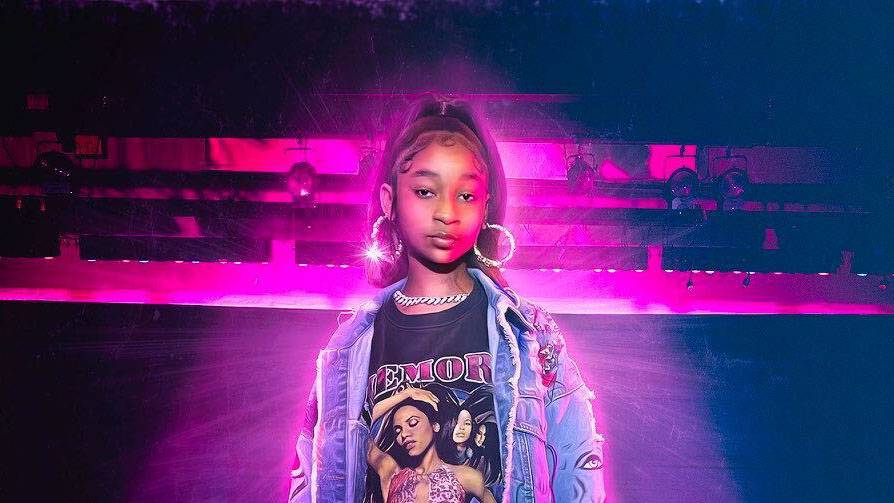 It takes a lot to be 'that' girl  and That Girl Lay Lay has the exact recipe to make all her dreams come true!
In a span of four years she has landed her own television show, That Girl Lay Lay on Nickelodeon, which recently premiered its second season on Thursday (July 14), released a new hit single "Do What I Want," and is preparing to release her EP Watch Me in August of this year.
Her infectious and bubbly personality lit up the room when she took some time out of her busy schedule to hop on the phone with BET.com and shared her ambitions to collaborate with some of the hottest women artists in the music game.
"Rapping got me to where I am, and I love dancing and acting. I can't just pick one," she humbly explained.
And for Lay Lay, who is still climbing up the ranks in Hollywood as a young child star, she says that the greatest advice she has received since becoming famous is to "stay humble and grounded in the industry, to be kind to everybody, and make sure that your attitude is right!"
Adding, "If you want your name to be carried and spoken about greatly in other rooms, then you know you have to work your way up in this industry!"
Check out her interview with BET.com below:
BET.com: You're in Season 2 of That Girl Lay Lay, which premiered on July 14th now that you have Season 1 under your belt, what did you enjoy most about filming this new season?
Lay Lay: I really just enjoyed being with the people. That really matters when you're filming because you're filming for long days. You really want to make sure that you share that connection with the people [that] you've worked with. It makes [the day] easier. Honestly, this season shows [how] we're kind of used to it now. The episodes are spicy!
BET.com: The first single from you is "Do What I Want," where you prove you have bomb choreography and vocal skills to go with it! What are you excited for your fans to see with this hit?
LL: I just want them to enjoy it! I want them to be happy for me because a lot of people were asking when I was going to drop music and a video. I've been filming and haven't had enough time to do it but I finally got it done. I just really hope that they cherish it.
BET.com: Your EP Watch Me comes out on Aug. 19! How are you feeling now that you're so close to releasing it?
LL: Of course, I'm excited, nervous, scared, and happy! It was hard picking just five songs for the EP, but it's gonna be great and I'm also dropping an album soon after the EP comes out. So [more] music is coming!
BET.com:  After shouting out Cardi B earlier this year for being an early supporter of your success, you also teased that you'd like to collaborate with her one day. Have you guys talked about it?
LL: No, but I've reached out to every hot female artist that you can think of in this industry and none of them want to do a song with me! But I gotta tell you the reason why I think they don't want to.
We have two different fan bases and we rap about two different things. Right?
I'm rapping about positivity and things for the children and they're rapping about things for the adults. So if we feel like that's the only reason that they wouldn't do a song with me just yet, because of my different demographics and fan bases, BUT I feel like once I get a little bit older is going down!
BET.com: What do you think it takes to become a role model?
LL: Inspiring the world to make a change. To become a positive change, [this] is what it takes to become a role model. Sticking to it and standing on it! Especially if I'm talking about positive music for the children and this is what I rap about. I have to stand on it.
BET.com: Summer is almost over! Do you have any fun end-of-summer plans that you're looking forward to?
LL: When I get a break from filming I plan on going to Miami because I'm really not a person that likes to go out the country. I just love being close to home. I can't really enjoy myself when I'm out of the country. [But if I had to pick a place] to go outside of the U.S., it would be Turks and Caicos or the Maldives!
Be sure to check new episodes of That Girl Lay Lay every Thursday on Nickelodeon at 7 pm ET!
This interview has been edited and condensed for clarity.