LeBron's Dream? To Play In The NBA With His Son
Bronny has been ascending in the youth basketball world.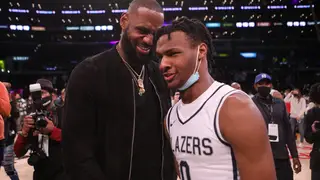 The level of dominance LeBron James has bestowed the NBA during his lengthy basketball career is very impressive, but can he remain as a player in the league long enough for his son to join him?
Bronny James has already made a major impact in the youth basketball world, but the NBA is a whole different animal. During a clip from season 2 of Uninterrupted's IMDB TV docuseries Top Class: The Life and Times of the Sierra Canyon Trailblazer, both James and wife Savannah James were asked about Bronny's future and their hopes for it.
"To be happy and find happiness in whatever it is that he does — whatever it is, I just want him to be happy," Savannah James responded about her 17-year-old son.
LeBron's response was a little more specific: "I want him to get to the NBA."
"I am not even gonna lie, I want to be on the court with him," he added. "I think that will be an unbelievable moment."
James noted that the timing of Bronny potentially hitting the NBA hardwood would cut "close" with his father's pending retirement. The younger James is currently a junior at Sierra Canyon School in Chatsworth, California.
"It could get close but we shall see," LeBron James said.
Watch the full video clip below.