Fans Come To Jay Versace Defense After Social Media Star Posts A GoFundMe Page For Mother's Memorial
Versace's mother, Nikesha Dolly Gunter, passed away due to an undisclosed illness.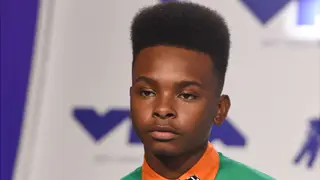 Internet sensation Jay Versace shared last week on Twitter unfortunate news about his mother's passing and posted a link to a GoFundMe campaign for folks to contribute to her memorial.
This ask for assistance has turned social media upside down with fans wondering why the popular social media star would need assistance due to his undeniable fame.
One Twitter user said, "[Jay Versace] having to start a [GoFundMe] for his mother[']s passing is so heartbreaking considering the impact he has had on social media for nearly our entire adolescence[.]"
Other users chimed in as well to share their thoughts.
MSL U.S. conducted a study with The Influencer League, sharing statistics of the racial pay gap between white and BIPOC influencers, which is said to be 29%.
The study shares that 77% of Black influencers fall into the nano and micro-influencer tiers (under 50K followers) where compensation from brands averaged $27,000 annually (versus 59% of white influencers). Only 23% of Black influencers (versus 41% of white influencers) made it into the macro influencer tier (50K+ followers), where earnings averaged upward of $100,000.
Unfortunately, race still is a determining factor of someone's worth in the online space.
According to the report, nearly half (49%) of Black influencers report that their race contributed to an offer below market value. Widen out to include BIPOC influencers, and 36% reported the same. It also shares majority (59%) of Black influencers (and 49% of BIPOC influencers) reported that they felt negatively impacted financially when they posted on issues of race versus 14% of white influencers.
The National Funeral Directors Association reported the average funeral with a viewing and burial costs $7,848 while the median cost of a funeral with cremation is approximately $6,971.
The internet star shared a message to his fans, thanking them for their support at this time.
The record producer exceeded his goal of $30,000 for the memorial costs, receiving over $63,000.
We are sending our prayers to Versace and his family.