Amanda Seales Says She Was Kicked Out Of A Black Hollywood Emmys Party
Four guards and a white woman named "Kiara" evicted her from the bash.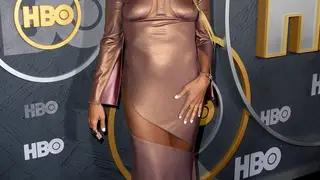 Amanda Seales needs Hollywood to put some respect on her name. The actress and comedian took to social media to share the shocking news that she was rudely kicked out of an Emmys party meant to celebrate Black Hollywood. Seales says she was asked to leave the Sunday night party, called Celebrate the Culture II, by "a white woman named Kiara" and escorted out by four security guards. She adds that she was invited to the event by actor Jesse Williams.
The Insecure star took to her Instagram Stories on Sunday night outside the event venue to post a live play-by-play of the incident.
"For the record, I am being denied entrance to the Black people's Emmy party," she said, standing outside the event. "And it's a white woman telling me I can't go in. I just want to put this on record that I am literally being told, 'You cannot get entrance into a party that Jesse Williams invited me to.' That is the only Black event for the Emmy weekend because a white woman is telling me I can't get in. But I'm fine."
The actress/comedian then cut to a clip of two security guards leading her out of the venue (later in her video, she said there were four guards who evicted her).
"This is security escorting me out of the Black Emmy party, that's what's happening," she said in the video.
Once outside, Seales further explained how hurt she was by the unexpected turn of events, and revealed the infamous "white woman's" identity.
"This is just to remind y'all that like, it really doesn't matter how hard you work or how good of a person you are, you just gon' be in some bulls**t," she said. "The fact that I was literally humiliated just now, because four security guards were asked to come and remove me from a party that is supposed to honor Black people at the Emmys, and it was a white woman named Kiara who made it her business to do this. Oooh, I'm not going to cry though."
Seales further added that there were specific instructions given to deny her access to the party.
"Some hater b***h, or some hater n***a, put the battery in her back," she continued. "When we do that s**t, and we empower s**t like that, it just really shows how powerless we really are to our ego, and to pettiness. And I really just feel sorry for those folks. Because they really think they're doing something, and you're not. Because I still look bomb as s**t even though I was standing on the street corner."
Elsewhere in the video, she also explained that actor Elijah Kelley came out from the event and was confused to find her outside. She added that he tried to help her get in, but his efforts were futile. Seales said while the woman she identified tried to stop her, she walked inside anyway and stood by the bar. That's when a security guard, along with the venue's general manager and two other guards, then showed up to remove her from the party.
Hopefully somebody is being held accountable this week for treating Seales so poorly at an event where she was an invited guest.
Take a look at her full story, below: