Republican Presidential Primary Update
Mitt Romney is just 277 delegates shy of the 1,144 needed.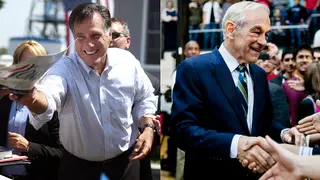 Newt Gingrich finally surrendered on May 2, leaving frontrunner Mitt Romney and Texas Rep. Ron Paul the last men standing on the Republican presidential campaign trail. There are, however, 23 more contests on the GOP's primary calendar in the race for the 1,144 delegates needed to officially capture the nomination. Romney, who has so far won 867 delegates, leads Paul (94) by a wide margin. Another clean sweep could help the former Massachusetts governor get close to half of the 277 delegates he needs to reach the magic number.
Indiana: Gingrich (130) and Rick Santorum (130) may have dropped out of the race, but their names will appear on the primary ballot in Indiana, which has 46 delegates. They'll likely all go to Romney, whose only effort to campaign in the state was a Monday night fundraiser in Indianapolis, indystar.com reports. With the Hoosiers, it's winner take all.
North Carolina: Barring catastrophe, the Republican presidential primary race is so over that most pollsters are no longer even bothering to take the voters' pulse in the remaining states scheduled to hold contests. That's definitely true of North Carolina, which offers the biggest haul of the May 8 primary night, with 55 delegates on the table who will be allocated proportionately.
West Virginia: The Mountain State will likely not be the exception to this week's primary night rule, and it would be surprising if Romney does not ultimately win each of its 31 delegates. West Virginia voters elect delegates who indicate on the ballot the candidate they plan to support, but they're not bound to that choice.
BET Politics - Your source for the latest news, photos and videos illuminating key issues and personalities in African-American political life, plus commentary from some of our liveliest voices. Click here to subscribe to our newsletter. 
(Photos: Win McNamee/Getty Images; T.J. Kirkpatrick/Getty Images)