10 Music Releases You'll Want To Keep On Your Radar This Summer
From Janelle Monáe to The Weeknd, here are the albums you'll want to put in your rotation for any occasion.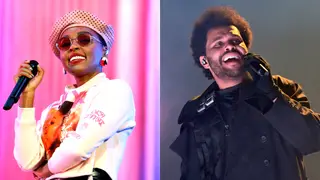 Get ready to groove to the beats of summer! As dedicated music enthusiasts, we understand the thrill of discovering new albums and singles from our favorite artists. That's precisely why we present our weekly feature, New Music Monday, where we share the latest releases that have already graced our ears.
However, we also recognize the importance of looking ahead and preparing for what's to come. After all, who wouldn't want to curate the perfect summer playlist for those cookouts, vacations, or exhilarating drives? So, fret not, as we've meticulously crafted a list of 10 upcoming album and project releases that you need to keep on your radar.
Let us present them chronologically because these musical gems deserve a special spot in your summer soundtrack.
Chief Keef: 'Almighty So 2'

Big Keef Sosa's Almighty So 2 has seen a series of pushbacks, however it's now slated for a June 9 release. The project is the Chicago drill rapper's first since 2021's 4NEM.

Doe Boy: "BEEZY"

Cleveland's Doe Boy is slated to release his latest album BEEZY later this week. It's the rapper's first project release since last years' OH REALLY and features G-Herbo, EST GEE, Future, Don Toliver, Lil Yachty, Lola Brooke, Roddy Rich, and more. 

Janelle Monáe: 'The Age of Pleasure'

With one of the best and biggest promotional campaigns of an album in recent memory, Janelle Monáe is slated to drop her "Lipstick Lover"-led LP The Age of Pleasure this Friday.

Kiana Ledé: 'Grudges'

Los Angeles-based singer-songwriter Kiana Ledé is scheduled to drop her sophomore album Grudges on June 16. It's the follow-up to her 2020 debut Kiki, which hit No. 30 on the US Billboard 200 chart back when it was released.

Killer Mike: 'MICHAEL'

Over the years, Killer Mike has lent his time to his numerous businesses, speaking engagements and activism, and putting out music under Run The Jewels. However, on June 16, the Atlanta rapper is slated to drop MICHAEL, his first solo album in over a decade (since R.A.P. Music).

The Weeknd: 'The Idol, Vol. 1 (Music from the HBO Original Series)'

The Weeknd teased fans with the single "Popular," featuring Madonna and Playboi Carti and "Double Fantasy" with Future. Now, the full project from which those come drops at the end of June.

Lil Uzi Vert: 'The Pink Tape'

While this one is not yet set in stone, just this week, Lil Uzi Vert revealed that their long-awaited and highly-anticipated LP The Pink Tape would be coming out at the end of June, however some fans are assuming that the project will arrive on June 23, National Pink Day in the U.S.

Various Artists: 'Barbie The Album'

Barbie: The Album is the soundtrack for Greta Gerwig's forthcoming movie Barbie, slated to hit theaters in late July. In honor of it, the soundtrack is packed full of some big-time artists, including Lizzo, Dua Lipa, Nicki Minaj, Ice Spice, Khalid, and PinkPantheress, among others.

Joyner Lucas: 'Not Now, I'm Busy'

Massachusetts-born rapper Joyner Lucas is slated to drop his sophomore album Not Now, I'm Busy in mid-August. It's the official follow-up to his 2020 debut LP ADHD.

Jorja Smith: 'falling or flying'

Release Date: September 29

Jorja Smith's falling or flying is her upcoming second studio album and serves as both the direct follow-up to her 2021 EP Be Right Back and 2018 LP Lost & Found. It's scheduled to arrive on September 29.