Kylie Jenner Made a Surprise Visit at a High School Prom
Needless to say, everyone freaked out.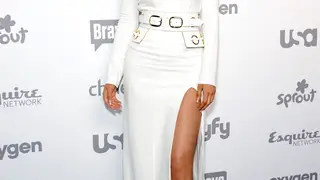 Prom season has officially begun and even Kylie Jenner is getting in on the fun.
As reported, the cosmetics maven recently decided to casually drop by a local prom, in turn freaking out every lucky teenager in attendance.
According to reports, Jenner, along with her best friend Jordyn Woods, made an appearance Saturday night (April 8) at Rio Americano High's prom in Sacramento, documenting the whole evening's celebrations on their respective SnapChat accounts.
Naturally, Jenner and Woods dressed to the occasion, each sporting gorgeous floor-length gowns, even completely their looks true to tradition with accessorizing corsages.
As reported, the reality star was the date of Alberto Ochoa, a junior at the high school, in turn solidifying his reputation as one of the coolest guys in his class.
Take a look at some footage of Kylie Jenner and Jordyn Woods gracing a local high school's prom below.