Bronny James Cardiac Arrest Caused by Congenital Heart Defect
The 18-year-old fell ill during a workout at USC in July.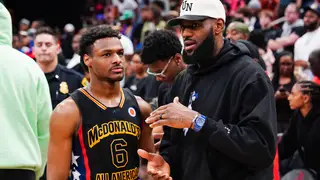 The cause of Bronny James' cardiac arrest has been identified.
"It is an anatomically and functionally significant Congenital Heart Defect which can and will be treated," reads a statement issued Friday by Stephanie Rosa of the LeBron James Family Foundation. "We are very confident in Bronny's full recovery and return to basketball in the very near future."
The 18-year-old college freshman and son of NBA star LeBron James collapsed on July 24 during a routine workout with his team at the University of Southern California. James was treated at Cedars-Sinai Medical Center and later seen by doctors at the Mayo Clinic and Atlantic Health-Morristown Medical Center in New Jersey.
James was released three days after the incident and later seen dining out with his family, where he appeared to be in good spirits.
The Associated Press report notes that James didn't join the USC Trojans on their European tour this month. The USC men's basketball program took a 10-day exhibition tour to Greece and Croatia this summer from Aug. 5-15.