Princess Love And Brandy Try To Prove Once And For All Who Is Pregnant, And Who Is Not
This conspiracy theory is getting Beyoncé-level crazy.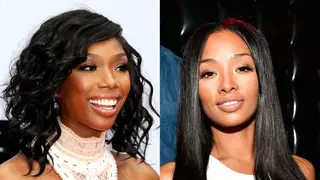 For months, both Brandy and her sister-in-law, Princess Love, have been fighting off baby rumors. Folks have been speculating that Brandy is pregnant, Princess can't get pregnant, Brandy is carrying Princess and Ray J's baby, and everything in between. One person adding fuel to all these rumors is Princess' enemy from Love & Hip Hop.
See how the pregnancy news all started with BET Breaks above.
The hater is Moniece Slaughter, who co-stars with Princess and Ray on the show and has beef with the mom-to-be going back years. Somehow, Mo thinks she has an inside track into the Norwood family's personal business. She took to Instagram in a now deleted post to confidently claim Brandy is in fact pregnant and is the surrogate for Ray J and Princess Love's child. 
"Here. I'll answer all of your surrogacy questions for you," she wrote. "Yes. Brandy is carrying the baby for them. Her hormones must be raging because aside from her already being off her rocker, she's losing her mind. Send my mom one more text that you claim you sent to me and I guess it's a fair fade since she's always publicly denying her pregnancy."
Princess Love viciously clapped back, going as far to co-sign another fan's insults about Moniece's family (the reality star famously appeared on Dr. Phil recently to talk about her brother's mental illness):
Princess Love also posted a video of her baby bump:
Brandy didn't address Moniece directly but she did post a video of herself giving blood. In case you didn't know, pregnant women can't give blood. 
We highly doubt Brandy gave blood to prove anything to Moniece... but being that she's our most beloved Petty Betty, we wouldn't put it past her.
Clearly, Ms. Slaughter needs to stop with the conspiracy theories.