DMX Files for Bankruptcy
Rep for troubled rapper blames money issues on "poor financial management."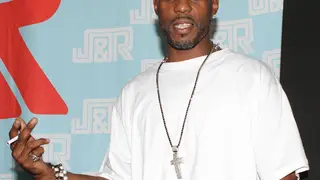 Just days after being arrested for DUI, multi-platinum rapper DMX has filed for Chapter 11 bankruptcy protection according to court records.

According to The Wall Street Journal, the Chapter 11 petition of Earl Simmons, aka DMX, which was filed Monday (July 29) in Manhattan bankruptcy court, lists under $50,000 in assets versus $1 million to $10 million in debt.
X, who once stood alongside Jay-Z as one of Def Jam's best selling artists of the '90s, said via court papers that the move was "to enable me to reorganize my financial affairs."

Domenick Nati, a representative for DMX, issued a statement to the media earlier today that read:
"DMX's financial strains have been inhibiting his career for several years. Poor financial management by prior representation have caused him to be ineligible to retain a passport. The purpose of this bankruptcy filing is for reorganization so he can perform for his fans oversees [sic]. We are currently planning a tour in Europe and Africa for the fall of 2013."
Nati went on to clarify that the Yonkers, NY, rapper's prior representatives failed to make his child support payments, rendering him ineligible for a passport (persons owing more than $2,500 may not receive a passport, according to the U.S. Department of State).
DMX was arrested in South Carolina and charged with driving under the influence of alcohol and driving without a license in a 1978 Plymouth station wagon on Friday (July 26). His representative said later that the rapper was not charged with DUI after he passed a breath test at the police station.

BET.com is your #1 source for Black celebrity news, photos, exclusive videos and all the latest in the world of hip hop and R&B music.
(photo: D. Salters/WENN.com)