EXCLUSIVE: Amara La Negra Reveals Her Biggest Pregnancy Cravings, Along With Her Newfound Self-Care Routine!
The soon-to-be-mom chatted with BET.com about her pregnancy journey.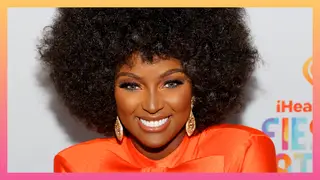 Amara La Negra has invited fans on her pregnancy journey via social media! From glimpses of her growing baby bump to snapshots of her fabulous gender reveal, the soon-to-be-mom of twin girls continues to keep us in the loop of her pregnancy lifestyle.
Recently, the Love & Hip Hop: Miami star sat down with BET Lifestyle to chat exclusively about her new self-care routine, along with her biggest pregnancy cravings. Read all about it, below!
"Self-care is sleep," she candidly shares with BET.com. "That's as good as it gets for me right now. Any opportunity I have to sleep is an opportunity for me to recharge and disconnect myself from the world."
Due to her busy schedule—which includes hosting her new late night talk show, Don't Cancel Me—Amara admits that she's not always one to enjoy a long slumber. However, since her pregnancy, she's been enjoying a good night's sleep.
"It's funny. I've always had a lot of issues with sleeping. I've always been that girl that doesn't sleep too much. You know, three or four hours and I'm back to it—late nights, early mornings, TV shows, radio or whatever the case may come. Now with this pregnancy, I truly understand and appreciate the meaning of sleeping. I think that sleeping it's one of those things that is so underestimated. We don't really appreciate the fact that you're in such a peaceful space when you sleep, especially when you snore. That's how you know that sleep is good."
Although she's been getting more sleep, Amara admits that she's still tired. "My body is working a lot and going through a lot. I'm trying to enjoy the process, but at the same time, because I will have to be their only provider, I feel like I have to work as much as I can. I have to go twice as hard because it's two mouths [to feed]. I'm just letting God guide me through this," she explains.
As far as her pregnancy cravings, the busy beauty reveals that she's recently turned to a food that's NEVER on her must-have list. "Like every month, there's a new one," she admits. "I hate hot dogs with a passion—they are disgusting to me. Now during my pregnancy, I freaking love hot dogs. It's so weird. Oh my god, the bun with the ketchup and the freaking hot dog."
She's also become a huge fan of Hot Cheetos. "Right now, I'm going through the spicy stage. I want spicy sauce on everything. And waffles— waffles with syrup and butter."
We're definitely not expecting, but that sounds absolutely delicious. The babies have some seriously good taste!
** Editor's Note: This story/interview has been edited and condensed for clarity.