EXCLUSIVE: Amara La Negra On Being A Single Mom + Why Mami Ana Is Her Biggest Support System!
The soon-to-be-mom chatted with BET.com about her pregnancy experience.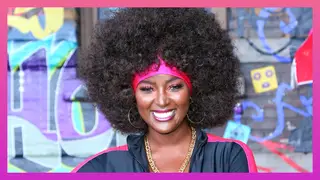 Amara La Negra is providing a judgment-free zone for conversations on her all-new late night talk show, Don't Cancel Me. Diving into a wide range of hot-button topics—including colorism, immigration, women's rights, and LGBTQ+ rights—the new addition to Fuse's nighttime programming has already created a serious buzz since its official debut on December 1.
Speaking of creating a buzz, the Afro-Latina musician and activist recently sent social media into celebration mode when she announced her pregnancy with twin girls. The soon-to-be-mom sat down with BET Lifestyle to chat exclusively about her initial pregnancy woes, along with why she is ready to be a mom.
Blessed with a bustling career in entertainment, Amara always knew she wanted children later in her life—much like her mom. "My mom had me when she was 30, and I kind of wanted to follow in her steps because we have such a great bond," she tells BET.com "It wasn't a plan. It happened naturally."
While Amara openly admits that she had concerns about having children later in life, she is a strong believer that everything happens in divine timing. At 31, the busy entertainer learned that she was expecting triplets. Unfortunately, she lost one of the babies in the early months.
"I wasn't planning on being pregnant nonetheless, but I learned that they were originally triplets," she candidly shares. "I lost one. That was actually the miscarriage announcement on Love & Hip Hop: Miami. The miscarriage was actually a part of the sack I am carrying now, so I was actually pregnant with three."
Thankfully, Amara has been able to lean on her mom Ana Maria for guidance and support. "She has been very supportive and super solid," she explains. "She's my best friend, my mom, and right now, my baby daddy. She's been there, and I know that she's gonna be there for them. I think that my decision to do this also had a lot to do with my mom because she has a lot of health issues, and I wanted her to be part of this experience. I wanted her to be able to enjoy her grandchildren."
She continues, "I grew up with no grandparents. I don't know what it is to have one on either side. I want my children to be able to enjoy that from her. I know that she's going to be a great grandmother."
In the spirit of the holidays, we asked Amara what she's most thankful for to which she humbly responded, "I'm grateful for my children. I'm grateful for my life. I'm grateful for my mother. I'm grateful for many things. And I am thankful for being present. I feel like I am present in my life."
We feel that. Congratulations once again to Amara on her bundles of joy!
** Editor's Note: This story/interview has been edited and condensed for clarity.