The Fugees Reunite For Mini Reunion At Roots Picnic
The group took center stage this weekend in Philly.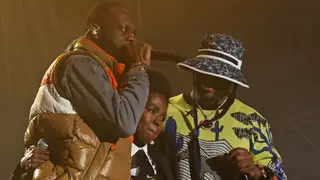 Lauryn Hill reunited with The Fugees during the Roots Picnic on Saturday (June 3) for what could be their last performance ever.
Questlove was present for the incredible moment and took a video of the extremely rare convergence of the legendary New Jersey trio.
"What A Night. In 1993 an unknown band called the Fugees (at the request of the record label i interned at @ruffhouserecords) opened up for us at #TheTrocodero in Philadelphia—-this was one of their first gigs since signing to a major label," he began. "They were there to help us celebrate our signing to @geffenrecords. Their #BluntedOnReality got released in early 93. We got our deal in Dec 93 & man…"
The Roots co-founder continued: "Now 30 years later & look at us now. What a journey. @MsLaurynHill did us a solid by letting us not only letting us celebrate with her the classic #MiseducationOfLaurynHill but she also made a moment by bringing together her bredren @WyclefJean & @PrasMichel ……in what could possibly be one of the last times we will see this institution together in this setting."
Last September, a potential Fugees reunion tour had been rumored. However, it was ultimately scrapped after Pras was hit with federal money laundering charges. Last year, the trio performed a date in New York City before ending it all.
Michel faced ten charges, including conspiracy, acting as an agent of a foreign government, witness tampering, and falsifying campaign finance records. Prosecutors alleged that he conspired with Malaysian businessman Jho Low, aiming to exert influence over the administrations of Presidents Barack Obama and Donald Trump. The charges highlighted Michel's alleged involvement in activities spanning two presidential terms.
While testifying on the witness stand, Michel revealed that he had received a substantial sum of $20 million from Low within nine months in 2012. Michel claimed that the purpose of this payment was to assist Low in obtaining a photograph with President Obama. Although Michel admitted to utilizing a portion of the funds to cover the expenses of three friends attending two political fundraisers for Obama's 2012 campaign, he vehemently denied carrying out these actions under Low's explicit instructions.