Whoops! Were Blac Chyna and Rob Already Caught Faking It for Reality TV?
Their show literally just premiered.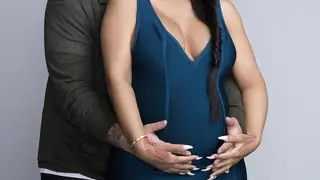 With just one episode into their new reality show, Rob & Chyna, engaged couple Rob Kardashian and Blac Chyna are already being suspected of faking it for the cameras.
According to TMZ, producers of the show are teasing viewers that Chyna chose to take a paternity test during her pregnancy after doubting that Rob was the father, but it's apparently all just a ploy for ratings.
In the scene, Chyna can be seen demanding a paternity test followed by a shot of her with a needle in her arm. The idea that's projected from the scene is that she was sleeping with multiple men and wasn't sure who the father of her child was.
However, production sources told TMZ that the needle was only used for a routine blood test and not a paternity test, and Rob is the only possible man who could be the father of her unborn child. She, however, did tell Rob at one point in the show that she had doubts that he was the father, but she said that "to get under his skin because she was pissed off at him."
They reportedly didn't even wait after they initially began dating to get started on having a baby. They tried for "several weeks" before she actually got pregnant.
Take a look at the clip that has everyone talking, below:
See Chyna on the cover of Paper magazine in the BET Breaks video, above.