Kevin Hart Had Two Of The Most Embarrassing Moments From Super Bowl 52
The comedian was on a high from the Eagles' win.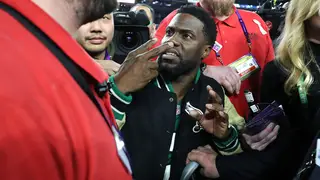 Kevin Hart was present at the U.S. Bank Stadium in Minneapolis, ready to cheer on his home team, the Philadelphia Eagles, to victory.
After the team scored the big win, Kevin delivered some equally hilarious and cringe-worthy moments that have since gone viral across social media.
Still pumped that the Eagles took home the victory, Kevin Hart had a bit of an unexpected blunder while sharing some opinions on the game during the NFL post show.
The comic seemingly didn't realize that it was a live show before dropping the F-bomb. He quickly caught himself, right after the fact, but it was too little too late.
"I hope this is an example of what we can do. We gave a f**k," he said before immediately covering his mouth, dropping the mic, turning around, and bowing his head in embarrassment.
Take a look at the hilarious clip, below:
The proud Philadelphia native also tried to make his way onto the field to celebrate with the team. However, security wasn't having it. What makes it even worse for Hart is that the cameras captured the humiliating moment during the broadcast, providing viewers with the perfect laugh to end the night.
Don't feel sorry for him, though, as he took to Instagram soon after the clip went viral to share that he was just excited about the Eagles win and, well, he was also a little drunk.
Watch him explain, below: