JoJo Simmons Fires Diss Freestyle at Juelz Santana
Rev. Run's son takes it to the Harlem MC.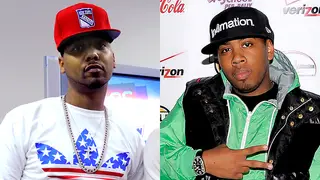 Them Simmons boys ain't nothing to play with.
Obviously taking cues from his father Rev. Run and little brother Diggy, JoJo Simmons is not one to back down from a rap battle. In response to Juelz Santana mentioning his name on the mixtape banger "Soft," JoJo unleashed scathing diss freestyle "Holy Water" yesterday [Jan. 31].
On the Rick Ross-assisted track from his latest mixtape, God Will'n, the Dipset member rapped, "As far as that dough goes/ I'm Russell Simmons, you JoJo."
The line prompted Rev. Run's eldest son to hop in the booth and record a vicious response.
"Now how you gonna mention my uncle Russell / Then disrespect his nephew / The industry forgot you / f------, you nothing special," JoJo griped. "Why you have to call my name / Thought you retired / Boy, that little bit of fame you had / That s--t had died / Tryna ride Ross' d--k to get a hit, you high."
This is not the first time a young Simmons has went on the attack after feeling slighted. Diggy Simmons also defended the Simmons family name last year on "What You Say to Me" after J. Cole name-dropped him on "Grew Up Fast" in addition to allegedly rapping about his older sister, Vanessa Simmons, on "Purple Rain."
Rappers beware: keep the Simmons name out your raps, or else.
BET.com is your #1 source for Black celebrity news, photos, exclusive videos and all the latest in the world of hip hop and R&B music.
(Photos from left: John Ricard / BET, Jemal Countess/Getty Images)