Serena Williams And Husband Alexis Ohanian Reveal The Sex Of Their Second Child
The gender reveal included a spectacular drone display.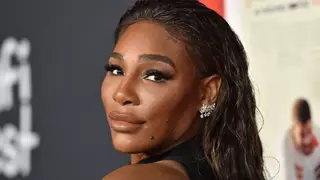 The secret is out. Serena Williams is having a girl!
"Obviously, I'm team pink, but I'm nervous because I don't have any contingency plans if it turns out to be a boy", she said before she arrived to the party while getting ready in a shoe closet.
When asked how she felt about this moment, she continued, "I'm very excited. I'm a little nervous. And I am anxious."
But her hubby, Alexis Ohanian, had a cute trick up his sleeve for his wife and their 5-year-old daughter Olympia before the true reveal could be made with the help of a cake. In what Williams thought would be the dessert to reveal the gender turned out to be a dud, filled with yellow on the inside, not pink or blue. Ohanian explained, "Hopefully, she will appreciate my troll."
As the tennis champ cut into the cake and realized it was yellow, she took a slice and gestured as though she would playfully smash it into her beau's face. "Do not do this ever again," Olympia quipped.
After his sweet prank, Ohanian prepared the crowd for the official reveal, which would be done with drones in the sky.
While staring into the night sky, the words "IT'S A…" appeared, then vanished. Finally, "GIRL!" appeared in pink, and the growing family erupted with joy.
The proud parents exchanged kisses, overwhelmed with excitement, while the Reddit co-founder held Olympia in his arms.
Williams announced that she was pregnant in May while at the MET Gala with her husband. Earlier during the day of the reveal, Olympia stood in front of a balloon arch with an award ribbon etched with "#1 Sister."