Krayzie Bone Remembers Eazy-E on the 20th Anniversary of His Death
Krayzie Bone says Eazy-E is the "West Coast Russell Simmons."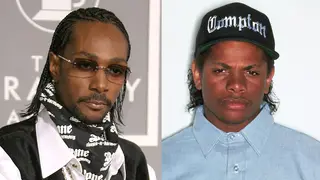 Twenty years ago today, rapper and West Coast visionary Eric "Eazy-E" Wrigh passed away from complications due to the AIDS virus. Though Eazy's death did not receive the same attention as that of other rappers like Tupac Shakur and The Notorious B.I.G., many still champion the NWA founder as the architect of the West Coast as we know it. 
As a member of Cleveland supergroup and Ruthless Records signees Bone Thugs-N-Harmony, Krayzie Bone got to know Eazy well, and according to him, hip hop owes a debt of gratitude to the man known simply as "The Godfather of Gangsta Rap."
"Eazy-E is the West Coast Russell Simmons," Krayzie Bone told BET.com in an exclusive conversation. "He pioneered rap to where it is now to this very day. Everything that stems from the West Coast stems from Eazy-E and what he built. That's how it's always gonna be because he started the West Coast, so everything that ever bubbles is thanks to Eazy-E."
Bone Thugs-N-Harmony met Eazy-E at a show he did in Cleveland and as Krayzie recalls, it was the beginning of a bond that would remain strong up until the "Real Compton City G's" MC's untimely death.
"The first time we ever met him it was crazy 'cause we had spoke to him on the phone and we had rapped for him before and we were in Los Angeles and we found out that he had a show in Cleveland. So we hustled up money to get back to Cleveland and when we went to the show, we managed to get backstage. Luckily he remembered us from rapping on the phone to him," recalled Krayzie. "When we met him, he was like, 'Were you the dudes rapping on the phone?' And we were like 'Yeah,' and he was like 'I wanna work with y'all. When are you trying to leave?' And we were like, 'Immediately,' and the rest was history." 
Despite financial conflicts that would lead to the eventual disbanding of NWA, Krayzie says Eazy helped the upstart MCs understand the notoriously shady music business.
"He taught us a lot about how to operate in business. First off, he taught us that all money ain't good money," remembered Krayzie. "Eazy really emphasized to us that the business is not fair at all, for anybody, so you have to have a certain mentality, and not everybody is built for this industry. So make sure you're built for this and you're willing to go the extra mile for it because it's gonna take you a couple."
Eazy was known to be about his business, but Krayzie says he also had a lighter side that many people never knew about.
"He was a dude that liked to joke around all the time," remembered Krayzie. "Always playing jokes. I think when we came around we were like a breath of fresh air for him because when he saw us, he knew he had new life at Ruthless Records and he was excited. He was always with us. He was hyped to be a part of the project, and he was just the biggest West Coast visionary in my eyes."
Though he remains confident that Bone would have made it eventually, Krayzie contends that without Eazy, the seminal group would never have reached the level of success that has kept them in the game for over two decades. 
"Eazy was definitely a visionary. If he hadn't put us on, I think we still would have made it eventually. But I don't think it would have been the same outcome," noted Krayzie. "Eazy understood the vision. He knew exactly who to put us with, what producers to take us to, how to market us and it's been working for 20-plus years now. If he was alive today, Eazy would definitely have a hand [in the rap game]. He would be the godfather like he already is. He would be major right now because his vision and his business savvy. He would be on top of the West Coast game right now."
BET.com is your No. 1 source for Black celebrity news, photos, exclusive videos and all the latest in the world of hip hop and R&B music.
(Photos from left: Frazer Harrison/Getty Images, CORBIS)