Southern Baptist Leader Resigns From Top Administrative Position For Lying On His Resume
Willie McLaurin was the first Black leader of the Southern Baptist Convention's Executive Committee.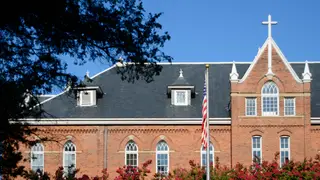 A Black leader in the Southern Baptist Convention, the largest Protestant denomination in the country, has resigned from his administrative post after it was discovered that he lied about his education.
Willie McLaurin, who was the first Black leader of the Southern Baptist Convention's Executive Committee, resigned on Thursday (August 17) from his position as interim president and chief executive. The Associated Press reports he stepped down from the role when it was revealed that he falsified his education on his resume
As the Executive Committee was considering McLaurin as its permanent chief executive, he applied for the position. In his application, McLaurin claimed he graduated from North Carolina Central University, Duke University Divinity School, and Hood Theological Seminary.
In his resignation letter, McLaurin apologized for misleading the convention and asked for forgiveness on behalf of his family.
"To the Southern Baptists who have placed their confidence in me and have encouraged me to pursue the role of President & CEO of the SBC Executive Committee, including pastors, state partners, entity servants, colleagues, and SBC African American friends, I offer my deepest apologies," McLaurin said in his resignation letter. "Please forgive me for the harm or hurt that this has caused."
"I am thankful for the trust that Southern Baptists placed in me to serve as Interim President & CEO. Now, I am trusting Southern Baptists to pray for me and my family as we navigate this part of the journey," McLaurin continued.
The Baptist Press reports that the Executive Committee Chairman Phillip Robertson and Executive Committee Presidential Search Committee Chairman Neal Hughes shared a statement with their members confirming that McLaurin lied about his credentials.
"While considering Willie as a candidate, your Presidential Search Team discovered disqualifying information during their process of vetting and due diligence," Robertson wrote in an email statement.
Hughes noted three different search committee members investigated the validity of McLaurin's and each found that he did not graduate from any of the institutions.
"They spent four weeks investigating and applying for answers," Hughes wrote the letter. "These matters were turned over to our EC officers, who also act as the personnel team for the EC."
Before his resignation, McLaurin worked at the Tennessee Baptist Mission Board for 15 years. He also was executive pastor at Greater Missionary Baptist Church in Clarksville, Tenn., and senior pastor at Greater Hope Baptist Church in Union City, Tenn. Additionally, he served as an interim pastor for several Southern Baptist churches.
In light of the stunning discovery, Robertson asked his fellow Southern Baptists to join him and Hughes in praying for the convention as they attempt to move forward in selecting their next leader.
"The need for God's wisdom and direction is paramount at each and every point in the process of searching and selecting the next president and CEO of the SBC Executive Committee," Robertson said.