2023 NAACP Image Awards: A Look Back at LeBron James' 2021 'President's Award' Acceptance Speech
Check out the many ways the decorated athlete has given back to his community.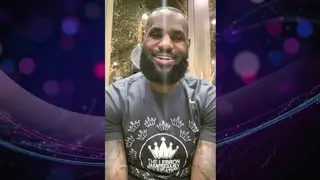 It's been nearly two years since record-breaking NBA star LeBron James became the 28th recipient of the NAACP's President's Award at the 52nd annual ceremony. The accolade is given in recognition of extraordinary achievement and distinguished public service. Throughout his career, James has proven to be an inspiration and team player on and off the court.
The successful entrepreneur and philanthropist virtually accepted the award. However, his activism continued even in his speech as he called out voter suppression dispositionally affecting the Black community.
"There's a lot of voter suppression going on in the Black community where they try to take away our right to vote, take away our right to be heard, and just take away anything we can do to make change," James said at the time. "For us to come together with some of my fellow athletes and fellow artists, it meant so much to do what we did in the November election, being able to bring things to where we felt like it would be better for our community and better for America."
Ahead of the 2023 NAACP Image Awards, check out how LeBron gives back to his community.
More Than a Vote

Following the tragic killings of George Floyd and Breonna Taylor at the hands of police — James teamed up with other athletes like Patrick Mahomes and artists, including Toni Braxton and Bun B, in an effort to help make voting more accessible.

Together the celebrities recruited over 42,000 new poll workers and helped over 300,000 people vote at arenas they helped turn into polling sites. They also offered free rides to the polls with Lyft in ten cities and donated over $125,000 to state-based organizations.

I Promise School

In 2018, the LeBron James Family Foundation and the Akron Public Schools system partnered up for the creation of The I Promise School, a public elementary school in Akron, Ohio, in an effort to support the youth in the NBA star's childhood community and specifically aimed at at-risk children.

LeBron James Family Foundation

"Through its 'I PROMISE' program, the LeBron James Family Foundation serves more than 1,400 Akron-area students by providing them with the programs, support, and mentors they need to succeed in school and beyond."

Watch the NAACP Image Awards live on Saturday, February 25, 2023, at 8:00 pm ET/PT on BET.