Jaheim Shows Support For Donald Trump In New Video
"We the people have turned our backs on this great man."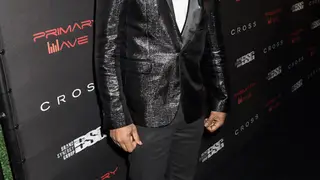 Singer Jaheim recently took to the internet to show his support for Donald Trump, praising his actions since he entered the White House. 
Posting a video on Instagram, Jahiem noted that Trump has "saved a lot of people." The R&B artist also apologized on behalf of the president "for all the misinformation since he's been in office."
"We the people have turned our backs on this great man who been working effortlessly to restore the balance for the Republic and didn't even take a pay check," he captioned in his Instagram post. 
Jaheim also called out Dems for their "numerous lies."
"We all allowed the Democrats to lie countless times but seeing is BELIEVING. You all are so far gone you can't see maybe it's the same water they been poisoning Flint with because we all followed wrong side for years its time to wake up," he continued. 
In his long winded caption, Jaheim urged that people understand that change is already here. 
"I just put my life on the frontline to speak out in favor to help you all, he said. "Now you know where my heart is I'm not one of them I will never take money to mislead anyone for it is the root to evil it's time to break this spell. So stay focus because real change is here."