Disturbing Video After Breonna Taylor Shooting Shows Police Drawing Weapons On Her Boyfriend
Kenneth Walker is seen raising his arms and cooperating with police.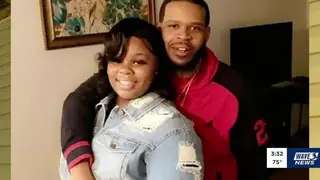 New video shows the arrest of Kenneth Walker, Breonna Taylor's boyfriend, by officers with their guns drawn after Taylor had already been fatally shot in her apartment.
Police have not yet released footage from the aftermath of the horrific incident, which makes the new video, taken by a neighbor, the first public look into the arrest of Walker. 
Taylor's sister, Juniyah Palmer, shared the video on Facebook on Wednesday (July 8). "Okay, since the police only wanted to share a small clip of what really happened in those moments ill share the full clip!" 
Palmer wrote in the post along with the video. "Let's talk about how Kenny is following orders but literally EVERY officer has their guns pointed at him! Racism is really spelt LMPD."
At the start of the video, at least three officers are standing behind vehicles in the parking lot. "Come outside," an officer yells, before the clip cuts forward to another officer issuing commands at Walker.
"Walk to me," an officer shouts. "Turn around, face away! Turn around, face away! Turn around, face away!"
"Keep walking backwards, sir," an officer continues. "Keep walking backwards."
"Have you been hit by a bullet?" an officer asks Walker.
"No," he responds in a trembling voice.
Watch below:
Breonna Taylor was killed by police serving a no-knock search warrant at her apartment. Her boyfriend, Kenneth Walker, shot once, striking an officer in the thigh, believing someone was breaking into the apartment.
One of the central elements to this case has been conflicting information about whether officers knocked on Taylor's door and properly announced themselves. LMPD has previously claimed they knocked and identified themselves, while attorneys for Taylor's family point to neighbors who say that isn't true.
Walker explains in the audio recordings that both he and Taylor got out of bed, got dressed, stepped into the hallway and someone busted down the front door. Subsequently, he says he fired one shot and then heard Taylor screaming as more shots were fired.
Kentucky Commonwealth Attorney Tom Wine says that in the recordings, Walker is heard acknowledging that officers did knock on the door, although he didn't know they were police at the time.
"It's like doom, doom, doom, doom doom doom!" Walker said in the recording, according to WLKY. He says Taylor began yelling and asking who was at the door, but there was no answer.
The new video raises questions as to Louisville PD's effort in trying to save Taylor, who they knew had been hit multiple times by gunfire. Taylor's family have argued Breonna was left to die rather than attempts by those on-scene to save her life.
According to Taylor's death certificate, she was struck by five bullets.
"In the six minutes that elapsed from the time Breonna was shot, to the time she died, we have no evidence suggesting that any officer made entry in an attempt to check and assist her," Sam Aguiar, the family's lawyer, said to the New York Times. "She suffered."
Since Taylor's shooting, the City of Louisville has banned "no-knock" warrants. Only Brett Hankison, one of the three officers involved in her death have been fired. However, none have been officially charged in her killing. 
Kenneth Walker was originally charged with attempted murder and assault for attempting to defend his girlfriend when police broke into their home. Those charges have since been dropped.