Q&A: Sharon Leal on New Movie and Being Biracial in Hollywood
The Woman Thou Art Loosed actress talks "easy" chemistry with co-star Blair Underwood and her Filipino roots.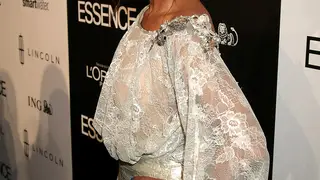 Audiences have enjoyed actress Sharon Leal's performances in film ensembles like the Why Did I Get Married? franchise, Dreamgirls and This Christmas, but now the 39-year-old gets her leading-lady turn in the dramatic suspense thriller Woman Thou Art Loosed: The 7th Day. Leal plays Kari Ames, a seemingly perfect wife and mother whose past secrets could unravel her family and future. The film, the second in a series by executive producer T.D. Jakes, also stars Blair Underwood, Pam Grier and Nicole Beharie.
BET.com spoke to Leal about sharing the screen with Underwood and Grier, if she'd star in Why Did I Get Married 3 and what it's like being biracial and Black in Hollywood.
Women Thou Art Loosed: The 7th Day is a dramatic thriller, but there are so many other elements to it. As an actress what did you enjoy most about the script?
This is the most challenging role that I've ever played, so it was really exciting for me to sink my teeth into it. I liked having this much screen time to deal with such intense emotions and I knew that would be hard tapping into some of those places. And because it's a thriller and suspense film I really enjoyed how fast it moves, grabs and keeps you on this high stakes ride.
You star opposite Blair Underwood, who's also the film's producer. How easy was that? The two of you have amazing screen chemistry.
It was so easy. When I heard he was possibly going to do the movie I was like, "Please, please let it be Blair!" I worked with him a long time ago on [the short-lived NBC drama LAX] and we've always hoped there would be something down the line that we could work on together again. Blair is such an amazing actor and person. He has this way of making you feel comfortable and he's really supportive and gracious. We do work well together and I'm happy that the chemistry was right on point, but that's not difficult to have with Blair Underwood.
The film also allowed you to go toe-to-toe with the legendary Pam Grier. Your characters begin as adversaries and you really give it to her in the film.
And she was giving it right back. You know what Pam Grier brings to a film and what she has brought historically — her presence was pretty unavoidable. The minute she walks onscreen you know she's a force to be reckoned with so it was exciting to have that pitted against my character. She's a huge icon and a really cool woman. I've always admired her.
One of your most popular film roles is the character Diane in the Why Did I Get Married franchise. Would you sign on for another sequel if there is one?
I absolutely would. I know that Tyler [Perry] is busy, he's always working on the next thing. But when we wrapped shooting Why Did I Get Married Too and Dwayne "The Rock" Johnson showed up we all hoped there would be a third installment. It seems the fans want it too. Whenever I go anywhere, that's a common question, "Will there be a three?" If there is I'm down to do it for sure.
Why do you think that movie and those characters are so popular with audiences?
It's one of those films where you get a bird's-eye view into couples. And folks are always interested in relationship-type movies. Especially when the storyline goes to places where you feel like you're witnessing something you shouldn't be seeing. Tyler did a good job of depicting every kind of couple, several couples that enabled an audience to identify with somebody in those movies. And in the first film that dinner table scene just rocked everybody. When I saw that played out on the screen I was like, "Wow!" It made you uncomfortable and made you laugh at the same time.
I recently realized that you are biracial — half Black, half Filipino. Are people surprised when they discover your racial identity?
I think it's interesting. It's funny because some people know it right away. They'll say, "Something else is going on there and it's Asian. I don't know where in Asia, but something's happening." But other people don't see it at all. I think when you look at me it's glaringly obvious that I'm Black and for some reason Asian doesn't exactly scream out at you. And I definitely identify with my African-American side more. That's how people perceive me and I'm fine with that.
But you weren't seen as Black in your first big acting job. Tell us more about that experience.
My first professional job was Miss Saigon on Broadway. I auditioned for an open call in San Francisco. There was an ad in the San Francisco Chronicle and they specifically asked for Asian-American actors only. And I had all this anxiety about them turning me away. Because I was like, "They're not going to believe that I am Asian." So I pulled my hair back very tight, I didn't wear any make up and I kept thinking they were gonna say, "Oh honey, you're not Asian and you need to go home." But I did book that job and that was the only role I've done where I'm actually depicting that part of who I am.
So what's it been like not being seen as Asian in any of your Hollywood roles since that first job?
It's interesting that when people look at me they don't necessarily know that about me. But for the bulk of my career that hasn't been a part of my culture I've been able to tap into. My mother is Filipino so I definitely have that influence culturally growing up. There were a lot of Asian customs, Asian foods and my mother has a very thick Filipino accent. She's is a big personality within my life. I think somewhere down the line maybe they'll be something [acting-wise] that will let me unveil that [my Filipino side] a little bit.
Woman Thou Art Loosed: The 7th Day is in theaters today.
BET.com is your #1 source for Black celebrity news, photos, exclusive videos and all the latest in the world of hip hop and R&B music.
(Photo: A. Turner Archives/PictureGroup)