Chrissy Teigen Is On Two-Week Bed Rest While Pregnant With Third Child
The model and host has been tweeting her pregnancy journey.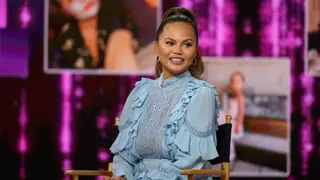 Chrissy Teigen is pregnant with her third child with husband John Legend but she is experiencing some pregnancy woes. The 34-year-old is now on bed rest.
On September 4 Teigen tweeted, "I get really really bad pregnancy headaches. was thrilled to be cleared to do neck muscle botox along with a crazy combo of beta blocker shots and radio wave frequency something doctor terms. anyhow man it's just so bad but I see the light finally."
By September 8, she revealed she is on bed rest, "I'm on official 2 week bed rest :( I'm taking this time to learn how to sew capes and kid clothes so shit is about to get... astonishingly ugly." 
Teigen didn't give a specific reason why she is on bed rest. However, later that day on September 8, she posted a video of an ultrasound. 
No word on when new Baby Teigan is due. The couple are already parents to 4-year-old daughter Luna and 2-year-old son Miles.