Coolio Missed Opportunity To Perform Major TV Show Before His Sudden Death
The 'Gangsta's Paradise' rapper had always wanted to appear on 'Wild 'N Out'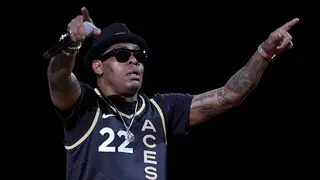 An opportunity that "Gangsta's Paradise" rapper Coolio dreamed of was within reach before his sudden death. TMZ reports that he was set to film an episode of Nick Cannon's Wild 'N Out in Atlanta on Sept. 20 but was forced to cancel at the last minute. He died eight days later.
The rapper, born Artis Leon Ivey Jr., was a big fan of the show, and the producers tried for a long time to book him on a date that worked. Unfortunately, Coolio's travel plans changed at the last minute, making it impossible to get a flight in time for the taping. He had planned to perform "Gangsta's Paradise," the 90's classic that made him a hip hop legend.
While visiting a friend's home in Los Angeles on Sept. 28, Coolio, 59, went to the bathroom but did not come out after a while. After calling his name repeatedly, his friend went in and discovered the rapper laying on the floor unresponsive. EMTs pronounced him dead at the scene from apparent cardiac arrest.
An autopsy performed the next day did not reveal the cause or manner of the artist's death, CNN reported. The county coroner was expected to investigate Coolio's death further.