Celebrating 5 Of Coolio's Classic TV & Film Appearances
The "Gangsta's Paradise" rapper has passed away at 59 years old.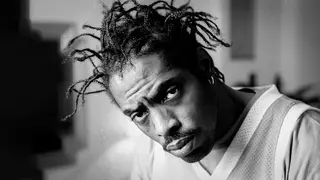 Tributes are pouring in for "Gangsta's Paradise" rapper Coolio, who reportedly passed away on Wednesday (September 28) in Los Angeles. He was 59 years old.
An original member of the Maad Circle, Coolio attained enormous fame during the 1990s with his 1995 hit "Gangsta's Paradise"  for the Michelle Pfeiffer film, Dangerous Minds, which appeared on the movie's soundtrack. 
The shocking news has had many reminiscing on some of Coolio's most popular acting roles and to celebrate both his cameos and coveted characters, BET.com looks back on five of his classic TV and film moments.
Kenan & Kel

Fans of Nickelodeon's Kenan & Kel, might remember Coolio's voice at the opening of the theme where he says "Aw, Here It Goes!", for the late night show which ran on the network from 1996-2000. 

Leprechaun: In The Hood

Coolio made a cameo appearance in the 2000s film that infamously took the Leprechaun series into the world of underground rap. 

Daredevil

In the extended director's cut of the 2003 Marvel movie, Coolio appeared in the film as Dante Jackson, who represents Ben Affleck's character Matt Murdock in a murder trial in court. 

Batman & Robin

Coolio makes a brief appearance in 1997's Batman & Robin, as banker overseeing a street race, where Alicia Silverstone's Batgirl/Barbara Gordon appears.

Malcolm & Eddie

During Season 3 of Malcolm & Eddie, Coolio stars in the "Daddio" episode playing a contractor who consults Malcolm Jamal-Warner and Eddie Griffin about building a club in the city of Chicago.