Hip Hop Awards 2022: Kodak Black Sets The Stage On Fire With Performance
Pays tribute to the late PnB Rock.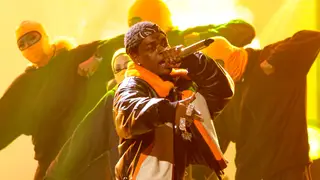 Kodak Black brought the heat to the stage at the 2022 Hip Hop Awards.
The Broward County rapper opened up his performance with a tribute to the late PnB Rock, who was fatally shot in Los Angeles, California on September 12. Five years ago, the two rappers collaborated on the hit "Too Many Tears," a song that Kodak used in his performance to pay tribute to the fallen Philidelphia artist.
With a white fluorescent light outline of PnB, Kodak stood center stage singing the "Too Many Tears" chorus. Long live PnB, you touched a real gangsta," Kodak said.
Kodak, 25, proceeded to perform a more recent track of his, titled "Walk." Of course, he couldn't grace the stage without performing "Super Gremlin." "Make noise for the biggest song of the year," he said, introducing the song.
Backed by his dancer dressed in all black, Kodak bopped around the stage, simultaneously turning up as he performed. He sported a black and orange jacket with "KTB" written on the back, standing for Kutthroat Bill, the title of his forthcoming album.
This Friday, October 7, Kodak (aka Yak) will be releasing that album, with a total of 19 tracks.