Hip Hop Awards 2022: 'Song of the Year' Nominee Kodak Black Has Been Working for This Moment
Get familiar with some of the rapper's earlier hits.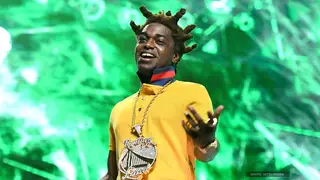 Kodak Black has had a successful rap career since initially gaining recognition for his 2014 debut single "No Flockin." He would further his visibility with a series of releases, including his 2017 debut album Painting Pictures which peaked at number three on the US Billboard 200.
He would later earn his first number one project with his second album  Dying to Live, which featured tracks like "ZeZe '' featuring Travis Scott and Offset. Kodak's not only talents not only earned him opportunities to hop in the studio with other artists but he's inspired some. He's also been the catalyst to others' booming careers. Although he earned a nomination in 2017 for "Best Hip Hop Artist," the Florida-based emcee has never won an award, but that could change this year.
Kodak earned a nomination for "Song of the Year" for his smash single "Super Gremlin" from his Sniper Gang label compilation Sniper Gang Presents Syko Bob & Snapkatt: Nightmare Babies. Ahead of this year's show, hosted by Fat Joe, check out some of Kodak's earlier "Song of the Year" award-worth tracks.
No Flocking

"No Flocking' is Kodak's debut introduction into the world as a rapper. The song was initially  released on YouTube in 2014 and released a year later. Following the moment behind the song and Kodak as an artist, the track eventually peaked at 95 on the US Billboard Hot 100 in January 2017. the YouTube video has been viewed over 265 million times. 

Tunnel Vision

"Tunnel Vision" is the second single from his debut album Painting Pictures. The track features production by fellow BET Hip Hop Awards nominee Metro Boomin and prominent producer Southside, and Cubeatz. The song was released in 2017, but it had gained millions of views before it's proper released after the emcee gave fans a preview on Instagram. The track found Kodak reflecting on his legal issues.  It ultimately peaked at number 6, becoming the emcee's first top 10 single.

"ZeZe" featuring Travis Scott and Offset

"Zeze" featuring Travis Scott and Offset is one of Kodak's most successful records. Shortly after his release from prison after having been arrested on multiple charges dating back to January 2018, Kodak hopped in the studio with Scott to create the song. A clip of the artists listening to a new beat that turned out to be "Zeze" got the meme treatment. The track debuted at number two on the US Billboard Hot 100 chart.

Watch the Hip Hop Awards on  Tuesday, October 4, at 9 PM ET/PT on BET