JT And Yung Miami Share Their Biggest Skincare Secrets—And It Comes From A Black-Owned Brand!
The City Girls chatted with BET about their new collab.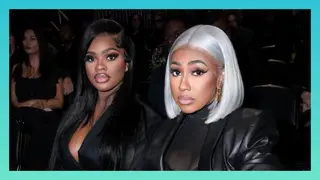 Are y'all ready to glow this summer? JT and Yung Miami of the City Girls are dropping their biggest skincare secret—periodt! 
The rapping duo recently partnered with Cota Skin Care to help fans shop some of their favorite products from the luxury skincare brand and we've got the scoop on the new collaboration, along with why the pair loves the collection.
"As Black people, it's hard for us to get products that really work on our skin," Yung Miami candidly shared with BET Lifestyle. "When I saw that the product was owned by Britni Ricard—a Black woman— I said, 'let me try it out."
Yung Miami says she personally loves the brand's Rose Toner to keep her skin hydrated and glowing. The toner is described as the perfect way to balance skin's PH balance while cleaning and closing pores.
JT revealed that the brand's 24K Gold Skin Brightening Serum instantly intrigued her for its ability to provide an all-over glow. "It caught my eye because I saw the gold flakes in it," she shared with a chuckle. "It really helped with dark spots, which I struggle with."
She added she also enjoys the brand's Hyaluronic Rose Mask to keep her skin hydrated when she's on tour.
For fans convenience, the City Girls Deluxe Bundle ($172) features the brand's cleanser, rose toner, 24K-gold skin brightening serum, cream, and hyaluronic rose mask.
Yassss! We love when stars share their beauty secrets with us.
Editor's Note: This story has been edited and condensed for clarity.