ESPN's Jay Williams Grills Stephen A. Smith Over COVID Vaccination Consistency Between Kyrie Irving And Aaron Rodgers
He's calling him out because he doesn't believe the sports commentator has been fair with his criticism.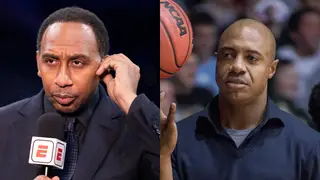 It's no secret that in the world of sports ESPN host Stephen A. Smith has been extremely critical about Kyrie Irving and his refusal to be vaccinated for COVID-19, which has led to him being unavailable to play for the Brooklyn Nets and jeopardizing their possible chances at success in the NBA regular season and postseason.
That said, he wasn't quite as fiery about Green Bay Packers quarterback Aaron Rodgers, who played his games, claiming in August that he was "immunized," but reportedly tested positive for the virus rendering him off the field at least for the game Sunday (Nov. 7) against the Kansas City Chiefs. It's something fellow ESPN commentator Jay Williams is taking him to task over.
On ESPN's First Take Thursday (November 4), Williams laid into Smith.
"I have this gripe with you, and I wrote down some things that you said here," Williams said to Smith to open the segment. "Three-and-a-half weeks ago you said 'It amounts to betrayal' for Kyrie, 'flat out stupid,' 'bad teammate,' 'selfish' … Oct. 16 on CNN, 'to hell with you' — you say all these things about Kyrie Irving, and he was very upfront and honest about his situation. He wasn't jeopardizing anyone else. He didn't put anybody else on the Brooklyn Nets at risk."
He continued: "I just didn't feel the same venom — I didn't feel the same energy that was associated with Kyrie Irving, and a part of me wonders why. How come you don't hold Aaron Rodgers — who lied — to the same standard?"
Stephen A. then replied, saying that his distinction was not that Irving should get the vaccine because of its efficacy, but that he owed it to teammates Kevin Durant and James Harden, who he believed went to the Nets over the neighboring New York Knicks because he was on the team. Furthermore, he added that many of Irving's teammates did not want to get vaccinated, but did so out of a sense of responsibility to the team.
In their heated exchange, Williams makes his case and does not back down from Smith. However it should be noted that Williams has received harsh criticism in recent weeks over defending Irving's right to choose not to take the vaccine.
It's a debate being played out since the news about Rodgers surfaced and is being pointed out as a double standard and even hypocrisy by critics, some of whom are now doubling down to defend Irving, believing that Rodgers was not held to the same scrutiny, which is the basis of Williams' argument to Smith.
RELATED: Kyrie Irving Could Still Earn $19M, Despite Not Playing

Smith said later on in his conversation with Williams that he feels Rodgers should be taken to task over not being forthright about his vaccination status, but many continue to feel that he nor many others in the media are holding up the same energy, although the Rodgers news is only recently surfacing.

At least one other well-known sports commentator also agrees with Williams and is sharply criticizing Rodgers, however. Shannon Sharpe, former Denver Broncos and Baltimore Ravens tight end and current co-host of the Fox Sports 1 show Undisputed weighed in on the controversy saying he lost "so much respect" for Rodgers.